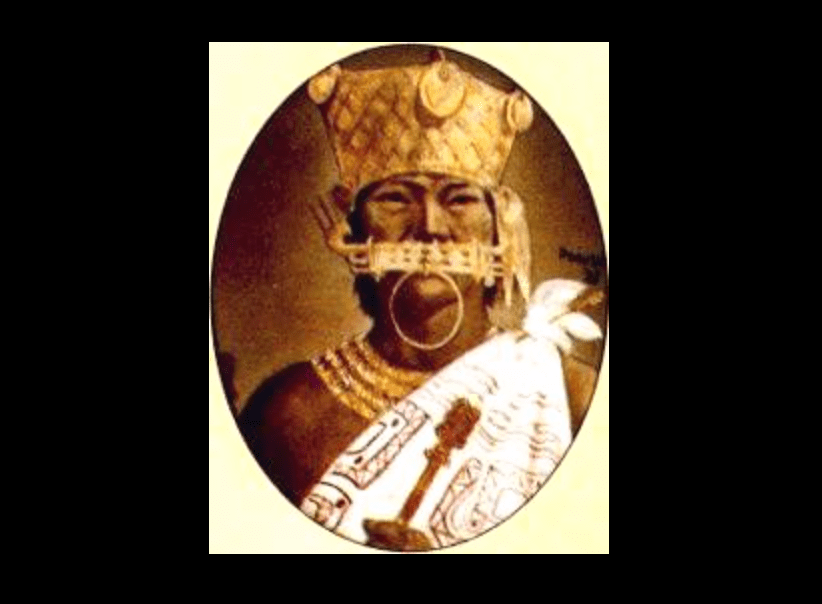 Image:   The main leader of the Muisca on the
Bogotá savanna
at the time of conquest was Tisquesusa. He led numerous efforts to resist Spanish invasion but was eventually killed in battle. His nephew,
Sagipa
, succeeded him and soon submitted to the conquistadors.
New World Report.  Joseph Humire, Secure Free Society, and Senator Maria Fernanda Cabal; in re: The troubled, failed state of Venezuela.  Cocaine.  Every kind of illegal weapon, kidnapping, cocaine—it all goes back and forth. Venezuela is out of gasoline. Maduro has no control over the economy; chaos.  Long lines for gasoline, other lines for food.  Illicit networks continue to function.  Iran sent about forty days' worth of gasoline. Trying to import another million gallons, but it's interdicted.  Clearly, Iran doesn't have the capacity to solve Venezuela's problems.  For Iran, Venezuela is dual-use operation: slightly humanitarian, but in reality a military operation.    
Mexico: AMLO enjoys a favorable position throughout Latin America. However, he "has the worst numbers" – the economy is doing badly.  Colombia was achieving a 3.5% increase, while Mexico was at less than 1%.    AMLO is a Chavez.  He's starting a new, profoundly leftist group: La Puebla.   Perfect profile of a socialist president who'll destroy Mexico's economy. He says he won't fight the mafia in order "to be less confrontational."  He's appeasing the cartels, and thereby the countries that are mfrg cocaine.  The cartels got the message right away; they'll control more territory, are bldg mini-cartels.    Joseph Humire:  @jmhumire, @securefreesoc
221: #NewWorld Venezuelans sell gasoline on ...