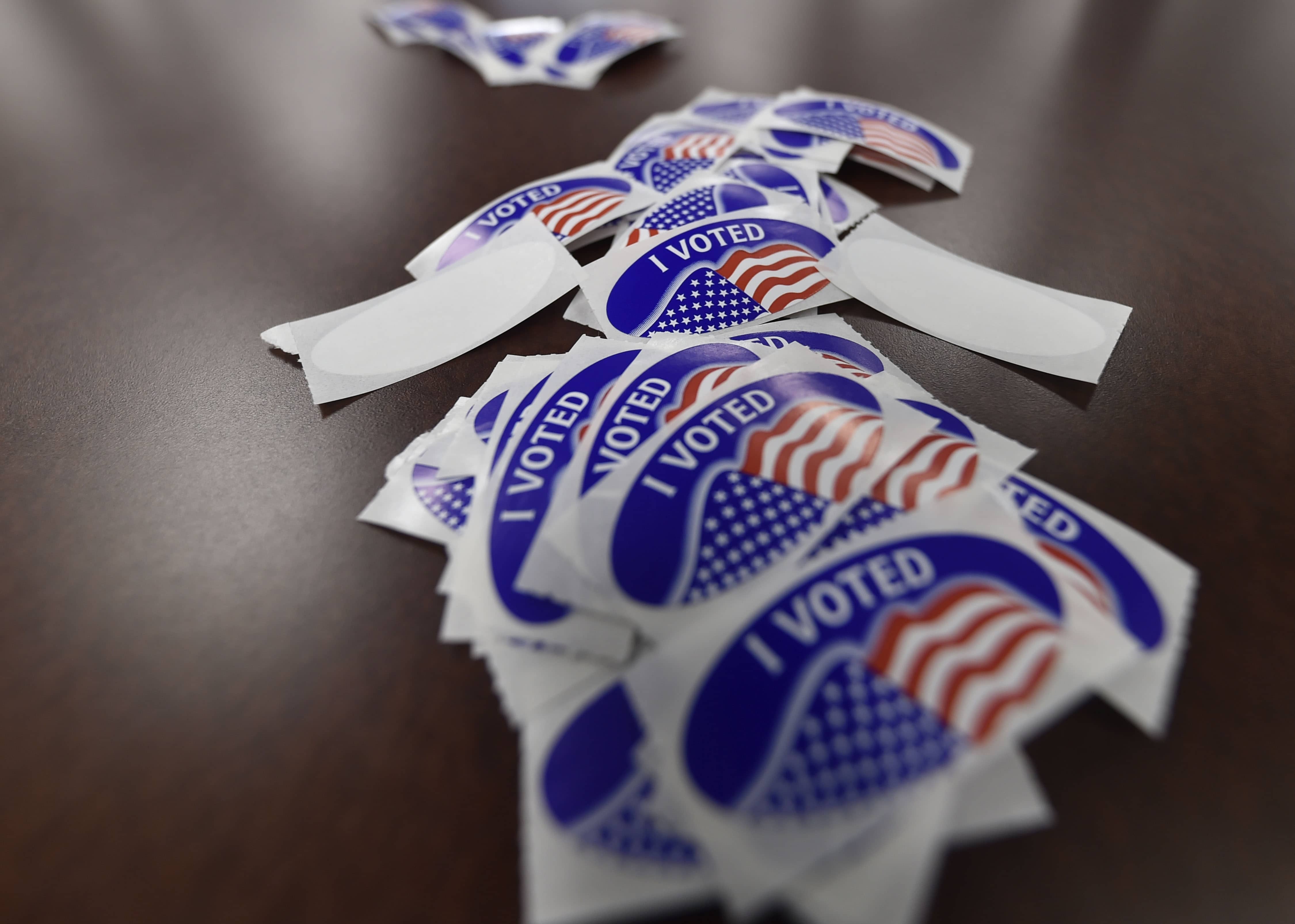 A pile of I voted stickers seen at the Luzerne County bureau of elections for those that place their votes. Voting in Luzerne County began today, voters walk into the bureau of elections and ask for a mail-in-ballot and deposit it in a box at the location. Luzerne County elections bureau was investigated after finding 9 military ballots in the trash 3 weeks ago. (Photo by Aimee Dilger / SOPA Images/Sipa USA)
NEW YORK (AP/77WABC) — New York City, long a beacon for immigrants, is on the cusp of becoming the largest places in the country to give noncitizens the right to vote in local elections.
Legally documented, voting-age noncitizens comprise nearly one in nine of the city's 7 million voting-age inhabitants. Under a bill nearing approval, some 800,000 noncitizens would be allowed to cast ballots in elections to pick the mayor, City Council members and other municipal officeholders
Noncitizens still wouldn't be able to vote for president or members of Congress in federal races, or in the state elections that pick the governor, judges and legislators.
Borough President-elect Vito Fossella announced on Cats at Night on Monday that he would take legal action if City Council legislation passes.
"One of the great privileges of being a citizen is the right to vote and as (Borough) President, I will initiate legal action to preserve the sanctity of the vote," Fossella said.
"Adding 800,000 new non-citizen voters to a system that has been made more complex by rank choice voting will increase concerns over fraud, undermining faith in the system while diluting the voice of our citizens in selecting their local leaders," he added.
Fossella isn't the only local elected official to come out against the legislation.  Rep. Nicole Malliotakis (R-Staten Island/South Brooklyn), who is the daughter of immigrants herself opposes the legislation. City Council Minority Leader Joe Borelli (R-South Shore), City Councilman-elect David Carr (R-Mid-Island), and Assemblyman Mike Tannousis (R-East Shore/Brooklyn) also vowed to oppose the legislation along Assemblyman Mike Reilly (R-South Shore) on the state level.
The bill is expected to pass on Thursday.