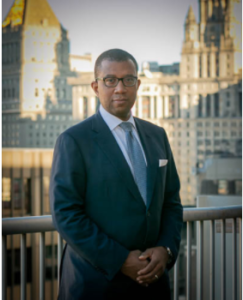 New York City (77WABC)-NYC Corporation Counsel James E. Johnson is taking on a new role next month as a chief operating officer for the Trinity Church in NYC, after serving in the role of Corporation Counsel for NYC since 2015.
NYC Mayor DeBlasio thanked Johnson for his work announcing he will be replaced by First Assistant Corporation Counsel Georgia Pestana who will become the first woman and the first Latina to head the NYC Law Department as its 80th Corporation Counsel.
Mayor DeBlasio said  "one great talent (is) being replaced by another in helping us move forward," the Mayor called Pestana an "extraordinary public servant."
Pestana said, "despite being a little bit in awe I know that I am up to the challenge of being the chief legal officer of the city of New York and I will make other women and other long-serving city employees proud and will make the city proud." adding, "thank you Mayor again for nominating me."
She joined Mayor DeBlasio during his briefing on Wednesday to talk about her experience and goals as NYC's incoming Corporation Counsel:
Pestana joined the Law Department's General Litigation Division directly after graduating from NYU School of Law. After a brief period as deputy general counsel at one of the City's agencies, she returned to the Law Department as the Managing Attorney of the General Litigation Division and was later promoted to Deputy Chief in 1996. In 2002, she was appointed Chief of the Law Department's newly created Labor and Employment Law Division, which handles all the litigation arising out of the City's role as employer of more than 300,000 workers. In 2013, she was promoted to Executive Assistant Corporation Counsel for Employment and Policy Litigation, where she oversaw the General Litigation, Administrative Law, and Labor and Employment Law Divisions. She has served as First Assistant Corporation Counsel since 2015.