This Is America with Rich Valdes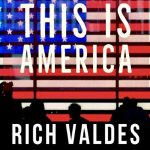 Politics is complicated, so we break it down to the basics. Join radio host Rich Valdes, "The Voice of Hispanic conservatives," as he takes you on his journey through poverty, prosperity, and politics. Valdes is a former staffer in Governor Chris Christie's administration, was the Director of Special Operations at Project Veritas, and is a regular guest-host of the nationally-syndicated Mark Levin Show.
Born in Brooklyn, NY, and raised in Hudson County, NJ, Valdes has been a 16-year-old business owner, a charter school co-founder, and a politically active businessman. You'll hear it all from this liberty-loving Latino — a proud American Gen-Xer of Puerto Rican heritage.
New episodes every Tuesday and Thursday.
Subscribe : Apple Podcasts | Google Podcasts | Spotify
Listen to Rich Valdes live on 77 WABC on Sundays at 5PM and Talk Radio 107.1 FM in Long Island weekdays 11-11:45AM.
THE RICH VALDES SHOW 10/30/2020
The Rich Valdes Show
Follow on Twitter