Bourbon Street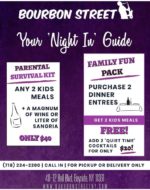 Business Name:
Bourbon Street
Short Business Description:
Cajun Style restaurant on Bell Boulevard in Bayside, Queens.
Long Business Description:
Parental Survival Kit – Any 2 Kids Meals + A Magnum of Wine Liter of Sangria $40
Family Fun Pack – Purchase Two Dinner Entrees Get Two Kids Meals Free! Add Two 'Quiet Time' Cocktails for Only $20
Food for the Fearless:  We are raising money to provide restaurant quality meals for our front-line healthcare professionals and first-responders as a symbol of community recognition, support and gratitude.
Your generous donation to Food For The Fearless will contribute to the  preparation and  delivery of meals to our worthy recipients throughout New York City and Long Island.  Donate here TODAY! https://www.gofundme.com/f/food-for-the-fearless