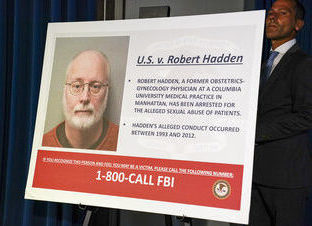 A board bearing a image of Robert Hadden is displayed before the arrival of Audrey Strauss, Acting United States Attorney for the Southern District of New York, and William F. Sweeney Jr., Assistant Director-in-Charge of the New York Office of the Federal Bureau of Investigation, at a news conference to announce his arrest and indictment, Wednesday, Sept. 9, 2020, in New York. Former New York gynecologist Hadden, accused of sexually abusing more than two dozen patients, including the wife of former presidential candidate Andrew Yang, was charged with six counts of inducing others to travel to engage in illegal sex acts. (AP Photo/John Minchillo)
NEW YORK (AP) — A gynecologist who molested some of his patients during a decadeslong career has been convicted of federal sex trafficking charges. A Manhattan federal court jury returned its verdict Tuesday against Robert Hadden. Hadden's lawyers admitted that their 64-year-old client had sexually abused patients, but they said his guilty plea to charges in state court seven years ago put those crimes behind him. Prosecutors said federal charges were appropriate because Hadden enticed women to cross state lines so he could attack them. Defense lawyers argued that he didn't know patients were coming from other states.
—Copyright 2023 Associated Press. All rights reserved. This material may not be published, broadcast, rewritten, or redistributed.