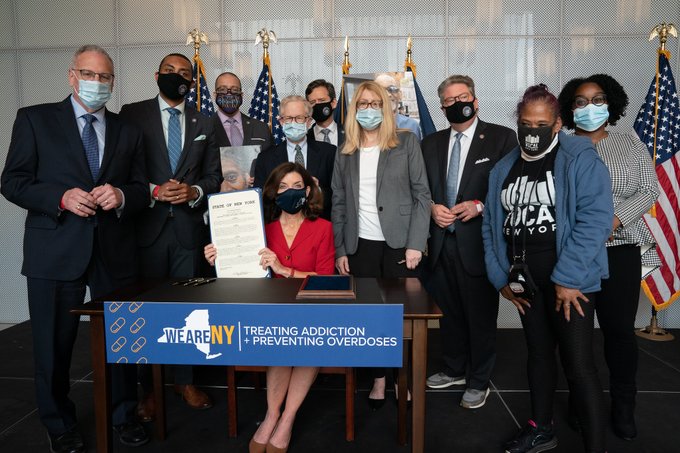 ALBANY, NY (77WABC) – Governor Kathy Hochul signed a bill that would decriminalize the public use and sale of needles.  The new law goes into effect immediately.
The new law eliminates a section of the state's penal code that says possessing a needle or syringe in public is a class-A misdemeanor.  The law also removes the cap of 10 needles allowed per sale to individuals under the old law.
Addiction can impact any family, suddenly and harshly – those who find themselves trapped in a vicious cycle are there through no fault of their own," Governor Hochul said. "This is a personal battle for me and I am proud to be able to combat the opioid crisis by signing these bills into law. There is no shame in seeking help for substance use and I want to let all New Yorkers know that we are here for you. Treatment should always be accessible for those who need it."
Hochul signed four other bills Thursday, which are all meant to help the state respond to its ongoing opioid crisis:
A bill meant to promote greater use of overdose medications like Narcan by decriminalizing them. Among other things, authorities won't be allowed to use possession of a medication like Narcan as evidence when pursuing drug charges against someone. Possession of overdose medication also won't be allowed as evidence that a building is being used as a drug dealing site.
A bill to establish medication assisted substance use disorder treatment programs in state prisons and local jails. Medication assisted treatment programs use a combination of counseling and medication to help people who abuse drugs. The medications could include methadone, buprenorphine and others.
A bill to establish an online directory of distributors of overdose medications, which will make them more accessible to New Yorkers.
A bill to expand the number crimes that could make someone eligible for diversion to a drug treatment program instead of prison.