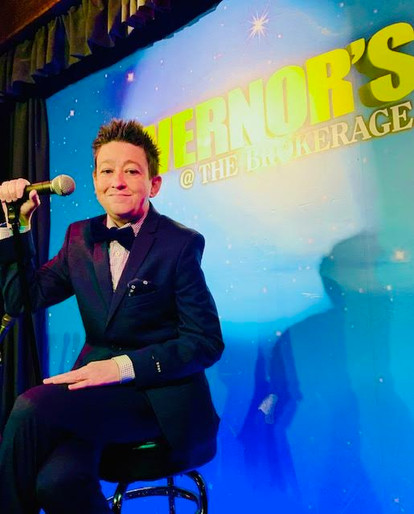 Photo Courtesy of Mario Bosco at Governor's Comedy Club in Levittown NY.
New York, NY (77WABC)- Comedian/Actor Mario Bosco truly sparkles. The Italian-born Brooklyn native hasn't had the easiest life; yet still perseveres with poise, humor, and strength as he graces stages across the country with his 'out of the box' comedy show.
Mario was born with panhypopituitarism, an extremely rare condition that inhibits growth. With this condition, the pituitary gland does not produce enough hormones, causing Mario to look extremely young; looking more like a teen, rather than his actual age of 48.
In and out of hospitals most of his childhood, Mario weighed about 40 pounds at age 9, which is basically the weight of my 5 year-old daughter. Mario admittedly was scared; day after day being poked and prodded with needles, feeding tubes, and eventually leaving the hospital with a tube taped to the side of his face for nourishment. Being from Brooklyn and walking around with a tube taped to the side of your face didn't exactly scream 'COOL'; in addition to being the smallest kid in school. When I first met Mario, I noticed his left eye was very red- he wouldn't stop rubbing it.
'Stop rubbing your eye,' I told him. 'It's super red.'
Without pause, Mario replies, 'No no, it's always this red. When I was a kid, someone threw a book at my face and it punctured my cornea.'
The fact that he said this so casually upset me very much. Kids can be so cruel, and it appeared that Mario grew up with so many bullies, he seemed to be numb to it after all these years. Mario had dreams of becoming an actor- in the early 90's his dreams became a reality after landing a role alongside James Woods and Michael J. Fox in 'The Hard Way.' From there, Mario was cast in films like 'Bullet', '54,' and then eventually 'NYPD Blue'.
In 2015, he published a memoir, "From Hopeless to Hollywood," detailing his life, struggles and triumphs. Mario also has a role in season 2 of the Amazon Prime show, 'Gravesend,' out late 2021 or early 2022.
Mario states, 'The most important thing I've learned is, never give up on your dreams. I didn't have a "normal" childhood, but I turned my negative condition into a positive outcome. I pursued and am still pursuing a career doing what I love – acting and comedy.' Meeting Mario was the most fun and inspiring time that I've had in a while- not to mention, tons of laughs.
Mario is a regular at Governor's Comedy Club in Levittown, New York. Additionally, he can be seen at Brokerage Comedy Club as well as McGuires Comedy Club also in New York.
Mario has shows coming up in NYC, Boston and Las Vegas (July 29th at Las Vegas Comedy Club to be exact). For more information on Mario, you can visit www.marioboscocomedy.com, or follow him on Instagram at @marioboscocomedy.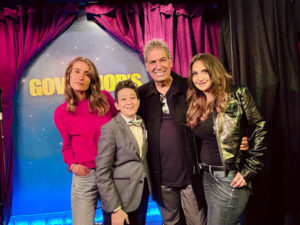 An exclusive note from Mario:
They say when life gives you lemons make lemonade- that saying is as old as toast! I have a different saying; life gives you a golden ticket.. but not all golden ticket's are super shiny. Take me for example- my life began upside down, sometime in the afternoon of January 18, 1973. Just a few hours before my mom's water had broke, she had a little sniffle and a cold, and doctor gave her two cold tablets and a glass of water soon after I arrived in this world.
I think back to my childhood, and no I'm not looking for sympathy… let's just say it didn't unfold as my parents would want it to. There were many dark night's and painful days. I was born with a disorder called hypopituitarism; a condition involving the pituitary gland and low blood sugar-a lot of medical stuff that I just couldn't understand and I honestly I didn't want to. My life really began when I turned 14; most young guys at my age were probably looking for the girls in the neighborhood, but I had my mind set on some thing else. Just off the corner of 14th street and Avenue M was a studio with the big colorful letters that read, NBC.  It's where they taped the hit television sitcom, The Cosby Show. One thing about me:  I'm very persistent in a good way..so after 3 visits to the studio, Bill Cosby himself  invited me to come inside the studio and see the home of the Huxtables; he was wearing his jogging suit, cigar lit, coffee and all. For a young kid like me to be around celebrities, it was a gift from up above. About a year later I asked Mr. Cosby if he would help me get into show business. The people in my neighborhood  thought that was one of the craziest things ever!  Asking a celebrity to help you get into show business! I guess I was a ballsy kid. Many years, movies, TV shows and commercials later, I thought about writing a book the book. And I did it- From Hopeless to Hollywood was published in 2015. These days I spend my time on the stage performing in front of a live audience.. so when they say dreams don't come true.. that's a lie.