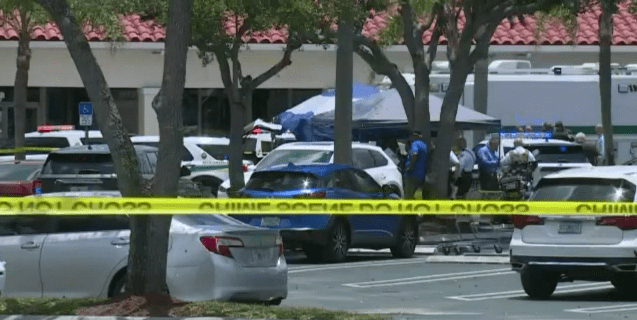 Credit: Palm Beach County Sheriff's Office
Royal Palm Beach, FL (77WABC) — Three people are dead following a shooting at a Publix Supermarket in Royal Palm Beach, Florida.   Palm Beach County Sheriff Deputies responded to the shooting just before 11:40 Thursday morning.    Among the three people killed: the shooter, a woman, and a child, according to Deputies.
Detectives are investigating a shooting that took place INSIDE Publix in RPB. Upon arrival deputies located three individuals deceased from gunshot wounds, one adult male, one adult female and one child. The shooter is one of the deceased. This was NOT an active shooter situation pic.twitter.com/G9KgTr3Mmp

— PBSO (@PBCountySheriff) June 10, 2021
On Twitter, Sheriff Deputies confirmed to the public the incident was not an "active shooter" event.  Palm Beach County Sheriff's Office Public Information Officer Terri Barbera said it could be possible that the people knew each other.
https://twitter.com/Breaking911/status/1403042736077524995
"What we are doing right now is documenting and trying to determine what led to the shooting.   We're talking to witnesses, we are reviewing the video, and we will have more information for you later today," said Palm Beach County Sheriff PIO Terri Barbera.
Detectives from the Violent Crimes Division were on the scene interviewing witnesses and looking over camera footage to begin the investigation as to what led up to the shooting.
This shooting marks another shooting in a supermarket to happen within the last several months.   In Long Island, 31-year-old Gabriel DeWitt Wilson, pleaded not guilty last week, after he was indicted in a fatal shooting at a Stop & Shop Supermarket back in April.   The store manager and several other employees and patrons were wounded — after authorities say Wilson was a disgruntled employee at the store.
In March, a mass shooting occurred at a Boulder, Colorado supermarket.  Ten people were killed, including a local on-duty police officer.  The alleged shooter, 21-year-old Ahmad Al Aliwi Al-Issa, was arrested after being shot in the right leg.
In a statement sent to 77WABC, a spokeswoman from Publix said "We can confirm that there was an incident at our Publix store located at 1180 Royal Palm Beach Blvd. earlier today," said Publix Spokeswoman Maria Brous.  "Our thoughts are with those who are impacted by this tragedy. We are cooperating with the local law enforcement."
Publix says since the shooting is an active police investigation, we cannot confirm any additional details.   The Palm Beach County Sherriff's Office says they plan to have an update later this afternoon.