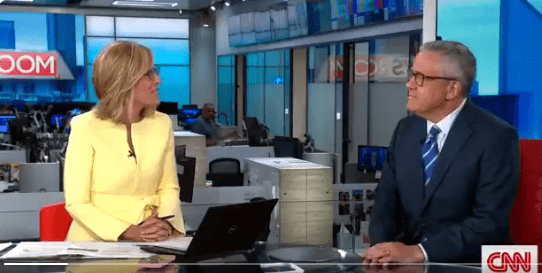 Credit: CNN
New York, NY (77WABC) — The CNN Chief Legal Analyst, who made headlines after getting caught masturbating during a Zoom call, made his return to the network on Thursday afternoon.
On CNN Newsroom, Anchor Alisyn Camerota began the segment, featuring the return of Toobin, by saying, "I feel like we should address what's happened in the months since we've seen you."   Camerota then subsequently asked, "To quote Jay Leno, 'What the hell were you thinking?"
My interview with @JeffreyToobin pic.twitter.com/OPmxut7emX

— Alisyn Camerota (@AlisynCamerota) June 10, 2021
Toobin, who was CNN's Chief Legal Analyst and a writer/contributor for The New Yorker magazine, was fired from the magazine and was suspended indefinitely from the cable news network after the masturbation act was caught on camera.   In responding to news anchor Camerota's question, Toobin said "it was deeply moronic and indefensible."
The zoom call saw 'round-the-world' happened back in November.  Toobin, on the program Thursday, said "I didn't think other people could see me…" and also stated "there was no defense for his actions."
After getting fired from The New Yorker after 27 years as a staff writer there, asked CNN executives for some time off to deal with the aftermath of the incident.   During the last seven months, Toobin also said on CNN Newsroom the last seven months have been "miserable" and use the time off to focus on his family and re-build the trust he loss — as a result of publically touching himself.
"I'm trying to become the kind of person people can trust again," Toobin said. "I am a flawed human being that makes mistakes … It was wrong, it was stupid and I'm trying to be a better person."
Toobin says he was incredibly grateful CNN took him back.    Toobin says he's sought therapy, went into public service, worked at a food bank and worked on penning a new book.
"I'm trying to become the kind of person people can trust again," Toobin said. "I am a flawed human being that makes mistakes … It was wrong, it was stupid and I'm trying to be a better person."
The CNN Anchor posted the interview to Twitter, which garnered north of 26,000 views on Twitter.    The interview also came with a host of criticism against Mr. Toobin.   One person saying, "CNN just make a new policy that everyone will be naked during panel discussions. That's a level playing field."  Another person commented: "Keep those hands above the news desk Jeff."