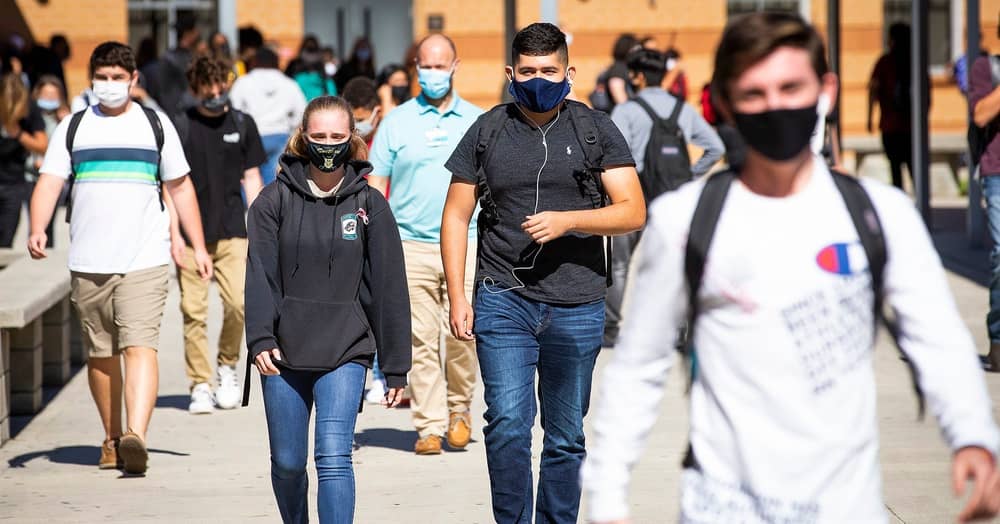 Credit: Doug Engle via Imagn Content Services, LLC
Loading
Should Masks Be Optional In Schools?
Thank you for voting.
You have already voted on this poll !
Please select an option !
New York state education officials on Sunday said masks would still be required during indoor instruction despite an announcement two days before that was meant as a major change in policy, confusing students, parents, and teachers alike.
Department of Health Commissioner Dr. Howard Zucker released a letter on Friday to the head of the CDC requesting a change in mask policy. Zucker said the state was prepared to eliminate its indoor mask requirement in schools and camps starting Monday unless the CDC objected.
"If there is any data or science that you are aware of that contradicts moving forward with this approach, please let me know as soon as possible. We plan to make this guidance effective on Monday, June 7," Zucker wrote in the letter  to the CDC.
UPDATE: State rules requiring masks in schools have not yet changed, Cuomo aide says https://t.co/aZY5QaI2tf via @lohud @wpsba @DrJosephRicca @nyschoolboards @NYSchoolSupts @Mary_FoxAlter @ShelleyBMayer

— Gary Stern (@GarySternNY) June 6, 2021
In a report made by the Times Union, a letter from the New York State Department of Education on Sunday went against the June 7th update, adding more confusion to parents and teachers.
"According to conversations with Executive staff, the intent of this letter was to obtain a response from the Centers for Disease Control (CDC) regarding differing standards for summer camps and schools; it has not changed any existing arrangements," a letter from the New York State Department of Education said. "Therefore, schools should continue to operate under their existing procedures until further notice. No changes have been, or will be, made by the Executive until after Monday June 7 to afford the CDC an opportunity to respond to the letter."
"Announcing on a Friday afternoon that masks will now be optional for both vaccinated and unvaccinated people in schools starting Monday — with only three weeks remaining in the school year — is whiplash-inducing news," New York State United Teachers President Andy Pallotta said in a statement on Friday. "Short of any additional guidance from the state or the CDC before Monday, we implore school districts to closely evaluate local conditions and connect with their educators and parents to decide the best course of action for protecting their school community."