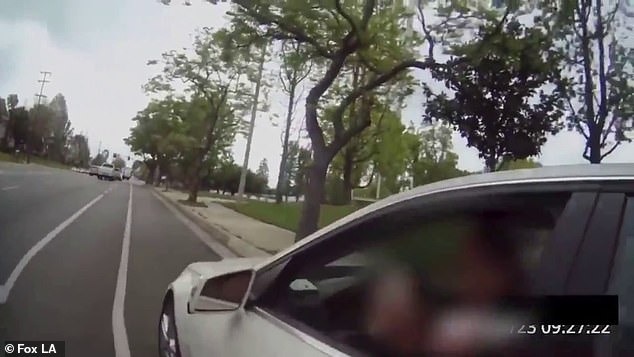 LOS ANGELES, CA (77WABC) – "You're a murderer" and "Here you go, Mexican racist. You're always gonna be a Mexican, you'll never be white. You know that right? You'll never be white, which is what you really wanna be" are just some of the disgusting comments a woman, who has been confirmed to be a teacher, was caught on video saying to a Los Angeles Sheriff's deputy who pulled her over for a traffic violation.
The driver goes as far to say to the cop, "You scared me and made me think you were going to murder me," without any provocation.
"Ok, well, I'm sorry you feel that way," the deputy replies.
"Well that's not just a feeling. You're a murderer."
"Ok."
Later she says, "I'm perfectly legal and I'm a teacher."
"Congratulations," says the deputy.
"You're a murderer."
She later claims, "You're threatening to kill me and my son," who apparently is also in the car during the stop.
The deputy asks if the car she's driving is hers.
"Yes it is. You're trying to say I stole my own car because you're jealous? Is that what that's about?"
The car is a white Mercedes.
The deputy's supervisor arrives and informs the woman she's being cited only for using her phone while driving.
The ugly incident happened in San Dimas, CA on April 23rd (assuming the body camera's time stamp is accurate) when a deputy pulled over a driver for allegedly using her cell phone while driving, which is against the law. As the officer approaches the vehicle, the driver says she was going under the speed limit, which he acknowledges and tells her that wasn't the issue. "I pulled you over because–"
"You're a murderer," she interrupts while also recording him. She promptly then says, "And can you call your supervisor, please?"
The 14-year career officer told Fox Los Angeles News Reporter, Bill Melugin who obtained the video, that he recorded the interaction on both his official department-issued body cam and a personal one he bought to "protect himself from false allegations" as the public continues to demonize police following the death of George Floyd last year.
As the unidentified officer approaches the window, the driver begins recording him on her cellphone, before saying, "I started to record because you're a murderer."
The LA County Sheriff's department told Fox News that the woman in the video called internal affairs and filed a harassment complaint against the deputy immediately after the incident. The department also said that the woman has a history of making false claims against deputies.
Fox News has identified the woman and confirmed that she is a teacher in the area, but she has not responded to the network's multiple requests for comment. Below is the video.
NEW: "You're always gonna be a Mexican, you'll never be white, you know that?"
A Latino LASD deputy sent me his bodycam video of a woman claiming to be a teacher launching into a racist tirade against him when he pulled her over in San Dimas. She repeatedly calls him a murderer. pic.twitter.com/Cc8jSVenCQ

— Bill Melugin (@BillFOXLA) May 3, 2021