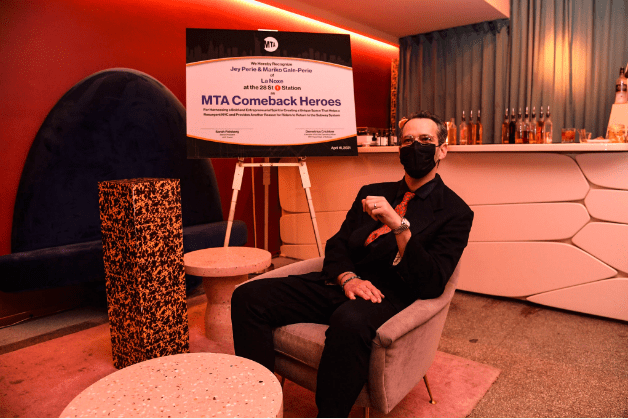 New York, NY (77WABC) – A hidden speak-easy, embedded within a Chelsea subway station, is being honored by the MTA as part of the new systemwide 'Comeback Heroes' program.
The owners of La Noxe were chosen, according to the MTA, because of the exciting buzz and positive attention their unique business has brought to the subway system, inspiring New Yorkers to take the train to the destination.
"We're proud to honor bold and creative New Yorkers like Jey and Mariko during this critical moment for the City," said Sarah Feinberg, Interim President of New York City Transit. "That a destination bar like La Noxe can thrive in a stairwell to a subway station proves that the transit system remains vital as ever to the fabric of New York – and that we'll be the engine that powers our economic recovery."
The MTA says the bar received its liquor license on the same day shelter-in-place mandates were made in the City last year.   Despite the economic stronghold the pandemic placed on New York City small businesses, restaurants and bars, La Noxe held on and was able to push forward to keep the popular establishment opened during the city's most extraordinarily difficult time.
"Thank you to New York City Transit for this special honor," said Jey Perie and Mariko Gale-Perie, owners of La Noxe. "When we first opened a year ago, we knew we were on to something. The reason why New York is the greatest city in America and probably the world is because of the subway system. At all times you can be wherever you want to go for the price of a ride. That's so important for nightlife and youth culture in general."
La Noxe is located at the bottom of the first flight of stairs at the southeast corner of the 28 St  station and reports to have more than a thousand people on its waiting list.  It occupies space in a private building and uses an easement for direct access to the unpaid side of the subway station.
The MTA will honor additional 'Comeback Heroes' from neighborhoods throughout its regional rail and bus network in the weeks ahead for creating unique spaces that help a resurgent New York City and State and provide another reason for riders to return to the MTA system.
The subway system recently surpassed a ridership milestone on April 8, serving more than 2 million customers for the first time since the onset of the COVID-19 pandemic. Ridership on buses also reflects a revitalized city, with NYC Transit and MTA Bus Company regularly providing more than 1 million trips per day.