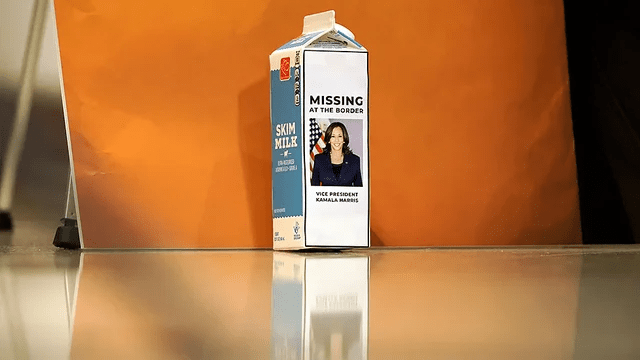 WASHINGTON DC (77WABC) – Republican Congressman Steve Scalise of Louisiana brought an unexpected beverage with him to the Capitol on Wednesday, a milk carton with Vice President Kamala Harris's picture on it and the words, "missing at the border."  Harris is facing intense criticism for her alleged inaction on the border crisis.
The "missing at the border" depiction Scalise brought to a House GOP press conference harkens back to the missing children ads seen on milk cartons nationwide beginning in the early 1980s.
It's been almost three weeks since President Biden picked Harris to lead the administration's effort to mitigate the surge of migrants flooding the US Mexico border.  The White House later clarified the Vice President would focus on the Northern Triangle countries of Guatemala, El Salvador and Honduras, from which the majority of the migrants are coming.
Harris said on Wednesday that she will travel to Guatemala and Mexico as part of her role in tackling the "root causes" of the crisis at the southern border.
"The president has asked Secretary [Alejandro] Mayorkas to address what is going on the border and he has been working very hard on that and is showing some progress because of his hard work," she said at a Northern Triangle security round table.
"I have been asked to lead the issue of dealing with root causes in the Northern Triangle, similar to what the then-Vice President did many years ago," Harris said. "But I will tell you these are issues that aren't going to be addressed overnight."