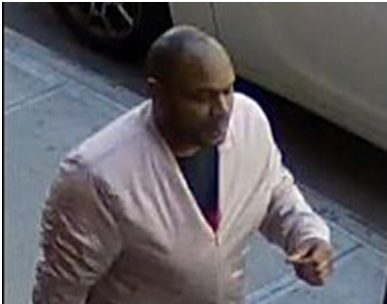 New York, NY (77WABC) – The New York City doormen, who were there during the moments of a brutal attack against an elderly Asian woman last week — have been terminated — according to the management company of the building.
The Brodsky Organization announced the terminations — almost a week after surveillance video of the attacks made global headlines.   The 65-year-old Filipina woman was repeatedly beaten and punched by a convicted criminal back on March 29th.
Both doormen were members of the 32BJ SEIU union.   The doormen were initially suspended after the assault took place.   The attack was part of a rash of violence against Asian-American and Pacific Islanders around the city and nation.
An internal investigation led by Brodsky resulted in the doormen's firing Tuesday, according to Carolina Gonzalez, 32BJ's regional communications manager.  Video of the assault can be seen below.  A warning, the video is graphic.
Police say 38-year-old Brandon Elliott, was arrested two days later and was charged with Attempted Assault as a Hate Crime,  two counts of Assault as a Hate Crime, Assault and Attempted Assault.
🚨WANTED for ASSAULT: Do you know this guy? On 3/29/21 at approx 11:40 AM, in front of 360 W 43 St in Manhattan, the suspect punched and kicked a 65-year-old woman while making anti-Asian statements. Any info? DM @NYPDTips or anonymously call them at 800-577-TIPS. pic.twitter.com/WRE4kSHtRG

— NYPD NEWS (@NYPDnews) March 30, 2021
This comes as the NYPD released new statistics when it comes to the number of attacks against elderly people throughout New York City.   The statistics come after 77WABC requested these numbers to get a deeper picture on the number of assaults against those who are 60 years of age and older.
The NYPD continues to investigate the most recent attack of a 75-year-old woman in Harlem on Sunday afternoon.     Police say the victim was unintentionally punched in the face multiple times and knocked to the ground — suffering lacerations to her lip and pain and swelling to her face.
Surveillance video of the suspect was captured moments after the attack and reported by 77WABC on Monday.
The New York City Police Department says there were 529 felony assaults on elderly persons 60-years of age and older from January 1, 2021 through April 4, 2021.   That's compared to 479 felony assaults during the same time period last year.   It's a 10-percent increase from last year.
The NYPD also says during a two week period, spanning from March 22nd through April 4th, 85 felony assaults have taken place between against individuals 60 years and older — 13 more felony assaults than during this same time period last year.
Police say 382 arrests have been made since the beginning of the year and 51 arrests have been made for the crimes that transpired over the last two weeks.
However, police are still searching for the suspect responsible for assaulting a 73-year-old man on West 47th Street in Hell's Kitchen.   Detectives say a man ran at him and punched him in the chest, knocking him to the ground.
Surveillance video captured the attack — which the NYPD posted on Twitter.    You can see the video below:
🚨WANTED for ASSAULT: Do you know this guy? On 4/3/21 at approx 8:50 AM, in front of 448 West 47 St in Manhattan, the suspect punched a 73-year-old male victim in the chest, knocking him to the ground. Any info? DM @NYPDTips, or call them at 800-577-TIPS. All calls are anonymous. pic.twitter.com/m2IDHTJZ4a

— NYPD NEWS (@NYPDnews) April 4, 2021
The unknown individual then ran eastbound on West 47 Street toward 9 Avenue.  The NYPD describes the suspect as a dark-skinned male, approximately 28-30 years old 5'10" tall, 150-160 lbs, and was last seen wearing a red jacket, gray sweatpants, black shoes, and a dark-colored baseball cap.
The NYPD says they will continue to step up patrol presence in communities where there is a large elderly population.   However, they are also encouraging those to be vigilant as well.   NYPD Commissioner Dermot Shea says abuse and assaults on the elderly will not be tolerated, at all, here in New York City.
Anyone with information in regard to this incident is asked to call the NYPD's Crime Stoppers Hotline at 1-800-577-TIPS (8477) or for Spanish, 1-888-57-PISTA (74782). The public can also submit their tips by logging onto the Crime Stoppers website at WWW.NYPDCRIMESTOPPERS.COM, or on Twitter @NYPDTips.
All calls are strictly confidential.