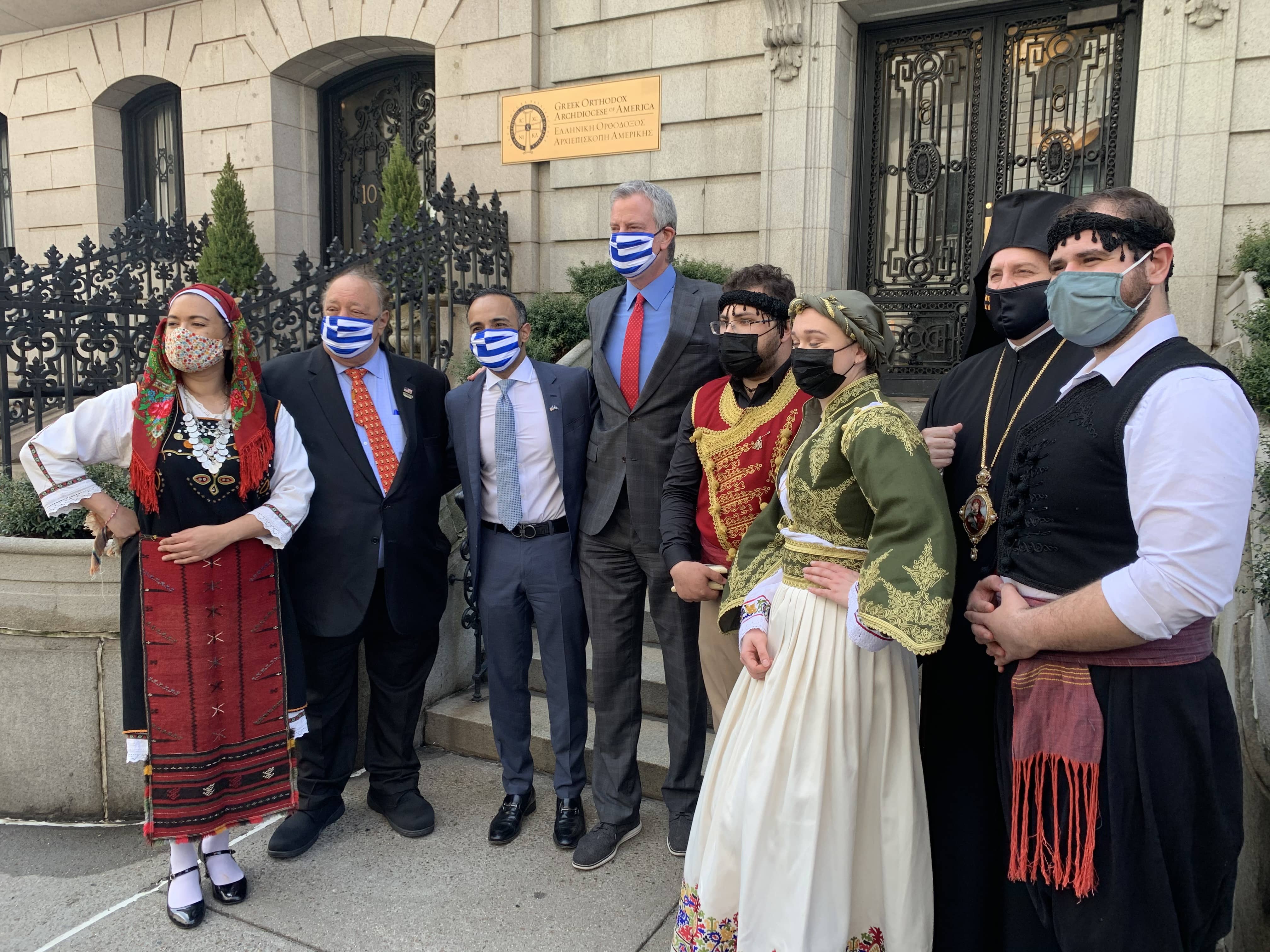 New York, NY (77WABC) – New York City Mayor Bill de Blasio took part in the bicentennial celebration of Greek Independence Day during a celebration outside of the Greek Orthodox Archdiocese of America on the Upper East Side on Thursday.
"Our lives and our freedoms simply wouldn't be possible without the contributions of the Greek people.  200 years ago the Greek people fought for freedom; they fought for independence and it was not an easy struggle," said Mayor DeBlasio. 
The ceremony was hosted by Red Apple Media Group CEO and Owner of 77WABC Radio John Catsimatidis.  Joining the Mayor and Catsimatidis was his Eminence Archbishop Elpidophoros (Lambriniadis) of America, the eighth Archbishop of America elected since the establishment of the Greek Orthodox Archdiocese in 1922.
"I'm proud to say we are here to celebrate the birthplace of democracy.  Greece goes back thousands of years.   Two-hundreds years of liberty," said John Catsimatidis. 
The Greek Orthodox Archdiocese of America, with its headquarters located in the City of New York, is an Eparchy of the Ecumenical Patriarchate of Constantinople.  The mission of the Archdiocese is to proclaim the Gospel of Christ, to teach and spread the Orthodox Christian faith, to energize, cultivate, and guide the life of the Church in the United States of America according to the Orthodox Christian faith and tradition.
"The United States of America has achieved to be the most successful democracy in the world.  This is why we the Greeks of the United States of America, Greek Americans, we feel so happy hear and so honored to be part of this democracy," said Archbishop Elpidophoros during the ceremony.
Part of the celebration included a performance of traditional Greek dance and music in front of the Archdiocese headquarters — where the Mayor, John Catsimatidis, and His Eminence all participated in — right on East 79th Street.
Listen to the importance of the history of Greek Independence here in the United States and with the New York City Greek Community with a special video presentation below.