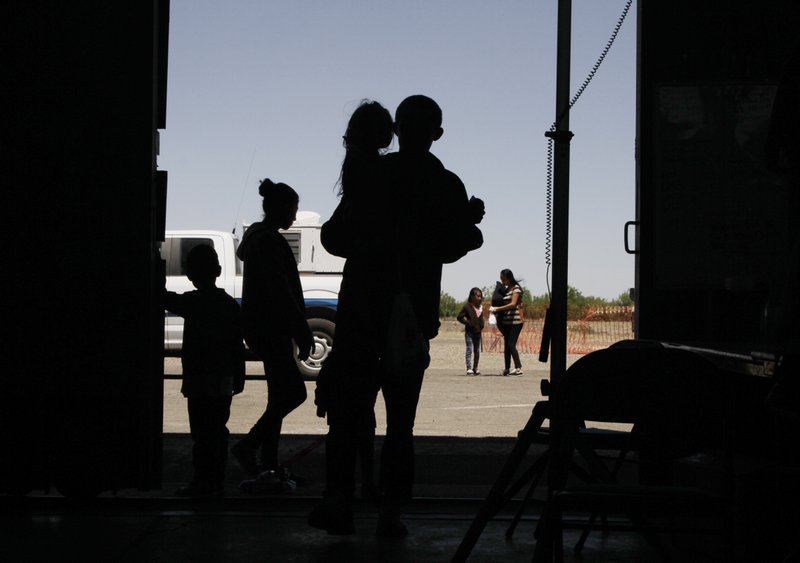 (AP Photo/Cedar Attanasio, File)
NEW YORK (77WABC) – According to a Washington Post report, the Biden administration is preparing to convert its immigrant family detention centers in South Texas into Ellis Island-style rapid-processing hubs.  The plan is to screen migrant parents and children and release them into the United States within 72 hours, according to Department of Homeland Security draft plans obtained by The Washington Post.
The plans show the Biden administration is racing to absorb a growing number of migrants crossing the U.S.-Mexico border amid shortages of bed space and personnel. Republicans and some Democrats fear that relaxing detention policies will exacerbate a surge that is already straining the Biden administration.
On Wednesday, Russell Hott, a senior official with Immigration and Customs Enforcement (ICE), notified staff of the rapid-processing plan in an email that said arrivals by unaccompanied minors and families this year "are expected to be the highest numbers observed in over 20 years."
The goal is to process and release 100 families per day, the plans show. Migrants who test positive for the coronavirus would be quarantined for 10 days.
ICE would not confirm the plans and said the detention centers are under review but remain "fully operational."
The Post article states:
The Biden administration has not yet detailed how exactly it would handle another influx.
In 2014 — when Biden was vice president and Mayorkas was deputy DHS secretary — the United States received an influx of 68,000 families, up from 14,800 the year before. At the time, Biden said the "crisis" was "untenable and unsustainable," and he and Mayorkas worked to stem flows from Central America and expanded family detention by opening the facilities in Dilley and Karnes. Mayorkas said then that he would ensure that "the detention of adults with children is done as humanely as possible."
The number of migrants continues to swell at the border.
More than 470,000 migrant families and 76,000 unaccompanied minors arrived in fiscal 2019, a record on both counts, and most were released into the United States pending a court hearing.
NEW Draft plans show the Biden administration is preparing to convert immigrant family detention centers in South Texas into Ellis-Island-style rapid-processing hubs, @mariasacchetti @NickMiroff @SilviaElenaFF report. https://t.co/n32XHCeEzq

— Maria Sacchetti (@mariasacchetti) March 4, 2021