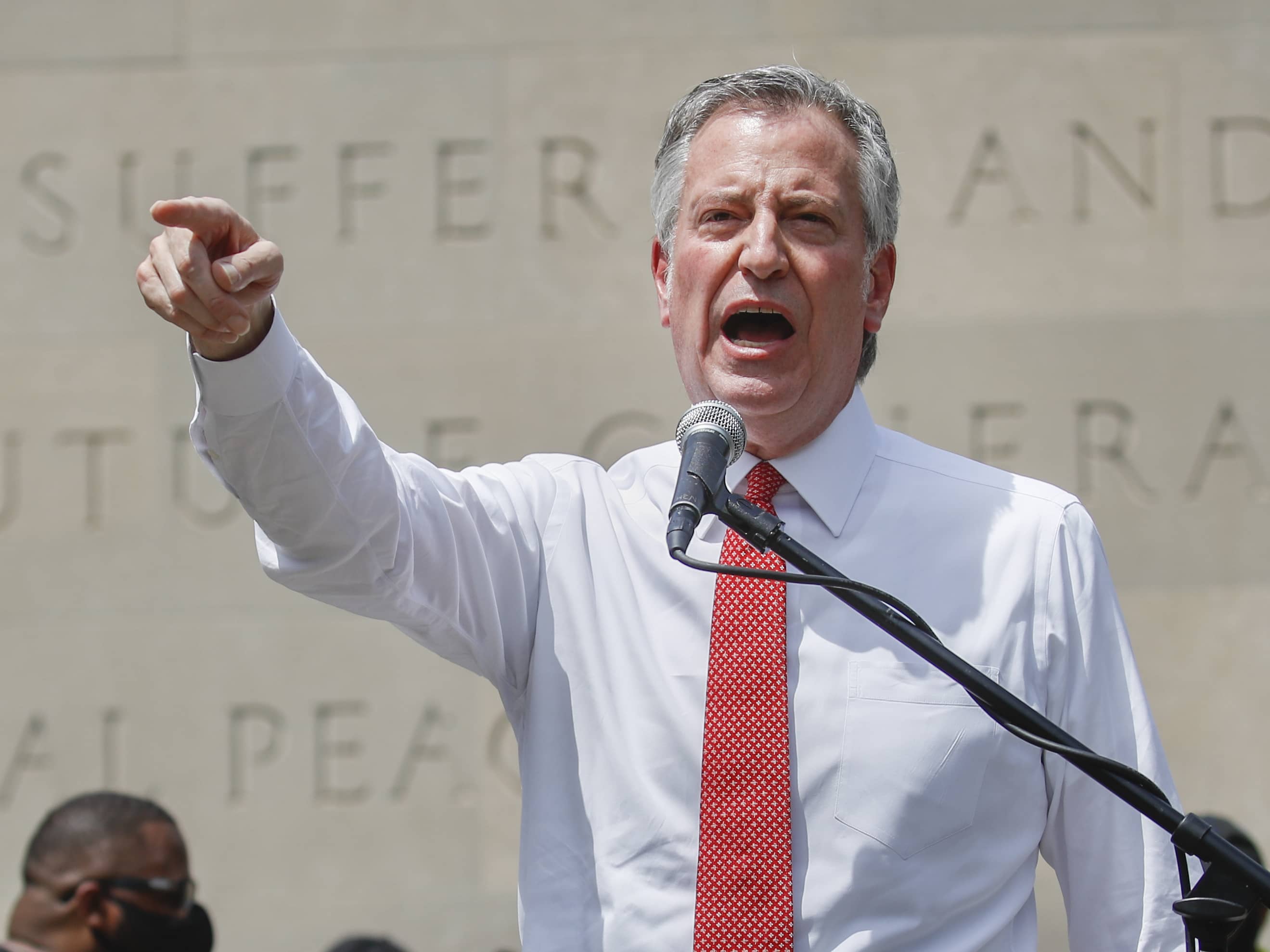 New York City Mayor Bill de Blasio, shown here at an event last month, defended the move to shift funds away from the city's police department.
NEW YORK (77WABC) – Mayor Bill de Blasio announced Wednesday that New York City is terminating its contracts with the Trump Organization because of the mob riot at the U.S. Capitol.
The contracts pertain to two ice-skating rinks at Central Park, the Central Park Carousel and the Trump Golf Links at Ferry Point, a city-owned golf course in the Bronx.
The Mayor says he is ending the relationship because he claims President Trump had incited violence.  President Trump is expected to be formally impeached for a second time on Wednesday for "Incitement of Insurrection."
"Inciting an insurrection against the U.S. government clearly constitutes criminal activity," Mr. de Blasio said in an interview on MSNBC on Wednesday. "The City of New York will no longer have anything to do with the Trump Organization."
New York City doesn't do business with insurrectionists.

We're taking steps to TERMINATE agreements with the Trump Organization to operate the Central Park Carousel, Wollman and Lasker skating rinks, and the Ferry Point Golf Course.

— Mayor Bill de Blasio (@NYCMayor) January 13, 2021
The PGA also canceled its tournament at his golf course and banks say they won't lend to Trump anymore either.
Hits to President Donald Trump's business empire since the deadly riots at the U.S. Capitol are part of a liberal "cancel culture," his son, Eric, told The Associated Press on Tuesday, saying his father will leave the presidency with a powerful brand backed by millions of voters who will follow him "to the ends of the Earth."
"We live in the age of cancel culture, but this isn't something that started this week. It is something that they have been doing to us and others for years," said Trump, who along with his brother, Donald Jr., have been running the family company since their father took office four years ago. "If you disagree with them, if they don't like you, they try and cancel you."