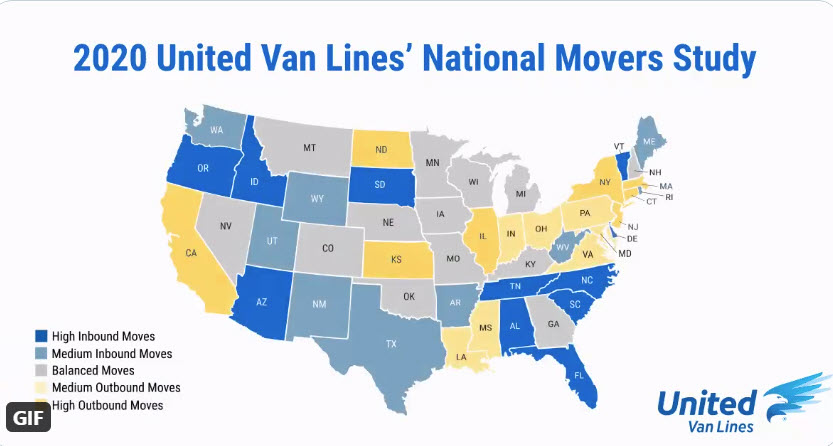 NEW YORK (77WABC) – An annual study that tracks migration patterns in the United States has found that Americans are leaving states and cities run by Democrats for Republican-dominant ones in droves.
Near the top of the list for highest outbound rate was deep blue New York, a state that has been suffering from steady population decline for years and in 2022 could lose a House seat or two due to a population decrease.
The study conducted by, United Van Lines, the nation's largest mover of household goods, found that in 2020, Americans continued the trend of ditching northeastern and West Coast liberal states for southeastern and Sun Belt states.  It's ongoing trend that seems to have hit warp speed due to the pandemic.
According to the group's data, which is based on household moves handled by United, the 10 states with the highest inbound rates were as follows:
Idaho
South Carolina
Oregon
South Dakota
Arizona
North Carolina
Tennessee
Alabama
Florida
Arkansas
As you can discern from the list, all of the states with the highest inbound rates are predominantly run by Republicans and consistently vote Republican.
Conversely, the study found that states with the highest outbound rates were predominantly run by Democrats.
New Jersey
New York
Illinois
Connecticut
California
Kansas
North Dakota
Massachusetts
Ohio
Maryland