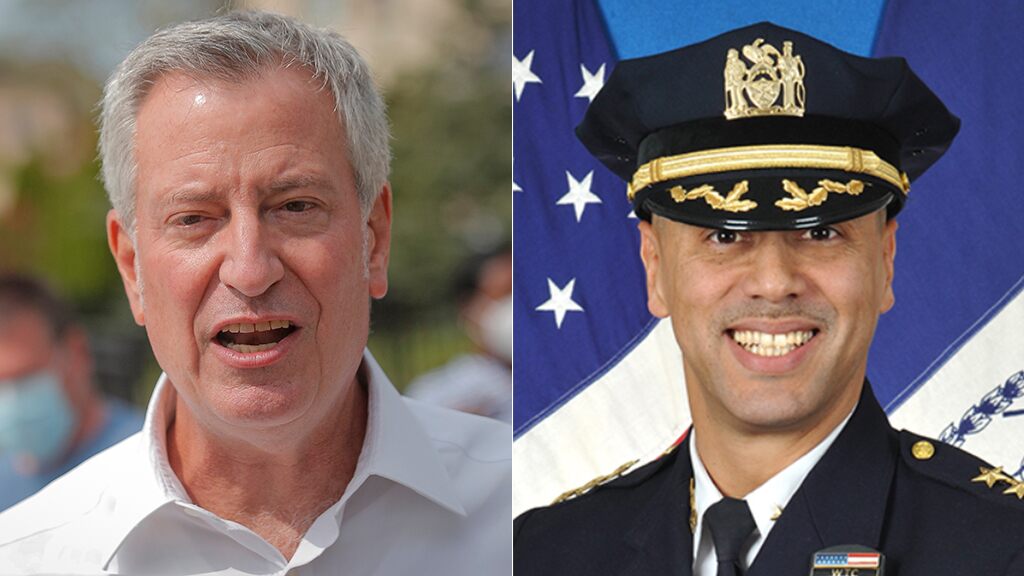 NEW YORK CITY (77WABC) – New York City Mayor Bill de Blasio told reporters Wednesday that he has nothing to do with the resignation of top cop, NYPD Chief of Patrol Fausto Pichardo.
At the press conference de Blasio said, "Chief Fausto Pichardo has done a fantastic job. We all tried to convince him to stay, but it was a personal decision."
De Blasio denied reports that the highest ranking Hispanic officer resigned because the mayor micromanaged him during his 11 month tenure as Chief of Patrol.  "The information that's been put out just isn't accurate," de Blasio said on Wednesday.
However sources have told 77WABC radio that the mayor is known for his micromanaging style.
Pichardo commanded protests throughout Borough Park last week, at one point working 36 hours straight, officials said. De Blasio then allegedly called him at home, and when Pichardo didn't answer after working the extremely long shift, the mayor demanded he come to City Hall on Friday.
During that meeting, officials said that de Blasio gave Pichardo a tongue-lashing for not answering his calls and/or texts.  It's highly unusual for this type of communication.  Normally, the mayor speaks directly with the police commissioner or the chief of department.
On Pix 11 news, NYPD Commissioner Dermot Shea said he was "surprised" by Pichardo's sudden resignation calling him an NYPD success story.
"It would be putting it mildly that I was surprised that he's leaving because of just how respected he is. What a bright future he has no matter what he does," Shea said.
Pichardo started in the role in December 2019 after joining the department in 1997. As Chief of Patrol he lead the Patrol Services Bureau and oversaw about 17,000 uniformed officers across the five boroughs.
He is the first Dominican-American chief of patrol as well as the department's highest-ranking Hispanic officer.  The department said his last day on the job will be 30 days from his announcement on Wednesday.