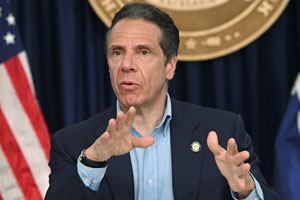 NEW YORK (77WABC) – New York Governor Andrew Cuomo is now threatening to withhold funding for schools and local governments that fail to comply with the state's shutdown orders.
The governor announced the warning via a teleconference call on Wednesday specifically adressing "covid-19 hot zones" located New York City, Orange County, Rockland County, the Town of Ramapo, and the village of Spring Valley. If schools in these areas are found to be operating contrary to the state's shutdown rules, they will lose funding, as will the local governments that do not shut the schools down.
"We could impound all funds," Cuomo said when asked how much the fine would be.
"This is no longer a question of public education. It is enforcement," he said. The micro-clusters the state is focusing on are in ultra-Orthodox Jewish communities, Cuomo said.  He added,"I have made it very clear to members of this community what the law is, what the rule is…I guarantee that if a yeshiva gets closed down, and they're not going to get state funding, you will see compliance."
The governor's office will also send letters to schools in red zones saying they, too, will not receive funding if they remain open, he said.
According to Cuomo, statewide positivity is at 0.95%, not including hot spots.  The micro-clusters, also known as red zones, are at 6.2% positivity.