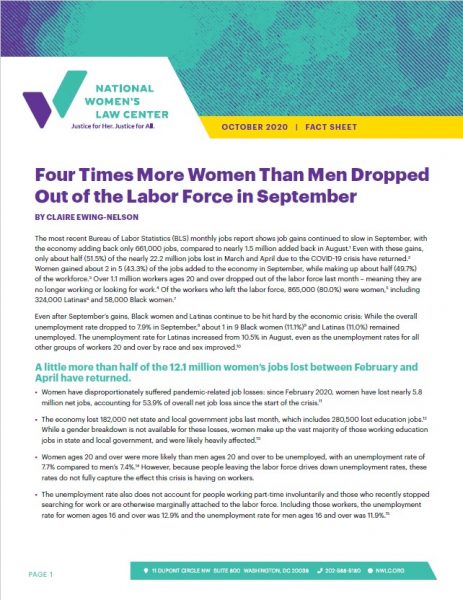 NEW YORK (77WABC) – The National Women's Law Center's (NWLC) published a fact sheet which reinforces that women have borne the brunt of the coronavirus crisis in the workforce.  One in four women, the report concluded, is considering downshifting her career or leaving the workforce because of COVID-19.
Analyzing data from the Bureau of Labor Statistics (BLS) monthly jobs report, NWLC reports that of the 1.1 million workers aged 20 and higher who dropped out of the labor force in September — meaning they are no longer working or looking for work — 80 percent were women. That figure amounts to 865,000 women out of work, including 324,000 Latinas and 58,000 Black women. Put another way, four times more women than men stopped working or looking for work in September.
In "Don't Let the Pandemic Set Back Gender Equality," a recent Harvard Business Review article, three partners and a senior fellow at McKinsey write: "Progress towards greater gender equality has been hesitant and halting over the past five years and the COVID-19 pandemic now risks sending it into reverse."
Hitting closer to home in the business events industry, the authors' analysis shows that "globally female jobs are 19 percent more at risk than male ones simply because women are disproportionately represented in sectors negatively affected by the COVID-19 crisis, such as accommodation and food service."
Also, according to McKinsey's and LeanIn's Women in the Workplace report, Moms are also more than three times as likely than dads to shoulder most of the housework and caregiving.  The responsibilities now include childcare and home schooling/virtual learning.  With so many children not going into the classroom due to the pandemic, usually it's the child's mother who then gives up her career.  Daycare can oftentimes cost thousands a month making it pointless for some women to continue working as well.
If no action is taken to counter the pandemic's "regressive effects," McKinsey estimates put global GDP growth at $1 trillion lower in 10 years than it would be if women's unemployment simply tracked that of men in each sector.