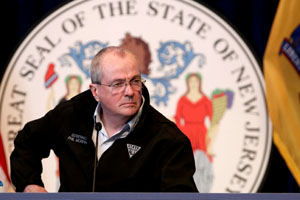 NEWARK, NJ (AP) — New Jersey Governor Phil Murphy has signed into law a measure giving state regulators power to deny development permits to businesses whose operations pollute predominantly Black and other minority communities.
Clean air. Clean water.

These rights will no longer be overlooked in New Jersey.

Today I signed the nation's strongest environmental justice measure, reducing pollution that has disproportionately harmed our Black and Brown communities. #ClimateJusticehttps://t.co/94CH6dcz6g pic.twitter.com/VTeKLwgHUN

— Governor Phil Murphy (@GovMurphy) September 18, 2020
Murphy on Friday cast the legislation in sweeping terms by calling it a historic and saying it amounted to a "monumental reform." The new law aims at addressing years of businesses putting incinerators, refineries and other businesses that foul the air and water in cities and towns with mostly Black residents.
Advocates for the legislation hailed it as long overdue. The measure has been pending since 2008.