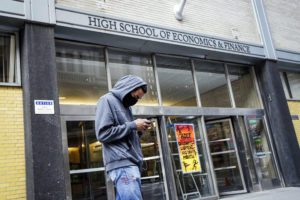 According to the United Federation of Teachers, educators at the HS for Economics and Finance in Lower Manhattan are facing threats to their pay for refusing to enter a building they say is not safe against COVID-19 infection and, instead, doing their jobs outside via mobile phones and laptops.

New York Teacher, Marlow Murphy writes that David Siroonian, the UFT chapter leader at the school, says there is little safety preparation and even less information for staff.

"The main issue is ventilation," Siroonian said. "We don't have windows in the classrooms, and the ventilation system is old."

The school was one of 22 New York City public schools unable to open for staff on Sept. 8. It was supposed to be ready for staff on Sept. 15, but Siroonian said educators have not received "any information" about what work has been done to address the issues that kept the doors closed for a week. He said the school also lacks personal protective equipment and has not yet held a COVID-19 Building Response Team meeting to determine procedures for responding to COVID cases, students coming in on days they aren't assigned and other potential challenges.

UFT President Michael Mulgrew said, "The educators from the HS of Economics and Finance are working on the sidewalk. They are ready. Their building is not."

UFT members at the school plan to continue to work remotely until they're assured it's safe to enter the building.

"We're going to work remotely, fulfill our duties to the school," said Siroonian, "but stay outside."

In-person instruction is still scheduled to begin city-wide Monday, September 21st.