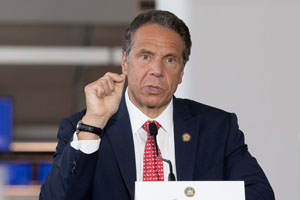 NEW YORK (WABC) – Governor Andrew Cuomo announced today that all New York's 750 school districts can open in the fall.
Cuomo's decision was based on the seven-day rolling infection rate in the state's 10 regions. The infection rate in the state was at 1% on Friday with 5 deaths.
Every region is well below our COVID infection limit, therefore all school districts are authorized to open.

If the infection rate spikes, the guidance will change accordingly.

School districts are required to submit plans to NYS for review.

— Andrew Cuomo (@NYGovCuomo) August 7, 2020
New York state is establishing guidelines for how schools can safely reopen that include  face masks when social distancing is not possible, regular cleaning of classrooms, COVID-19 screenings and contact tracing for anyone who gets infected.
The Governor says  they will continue to monitor the infection rate leading up to the first day of school.