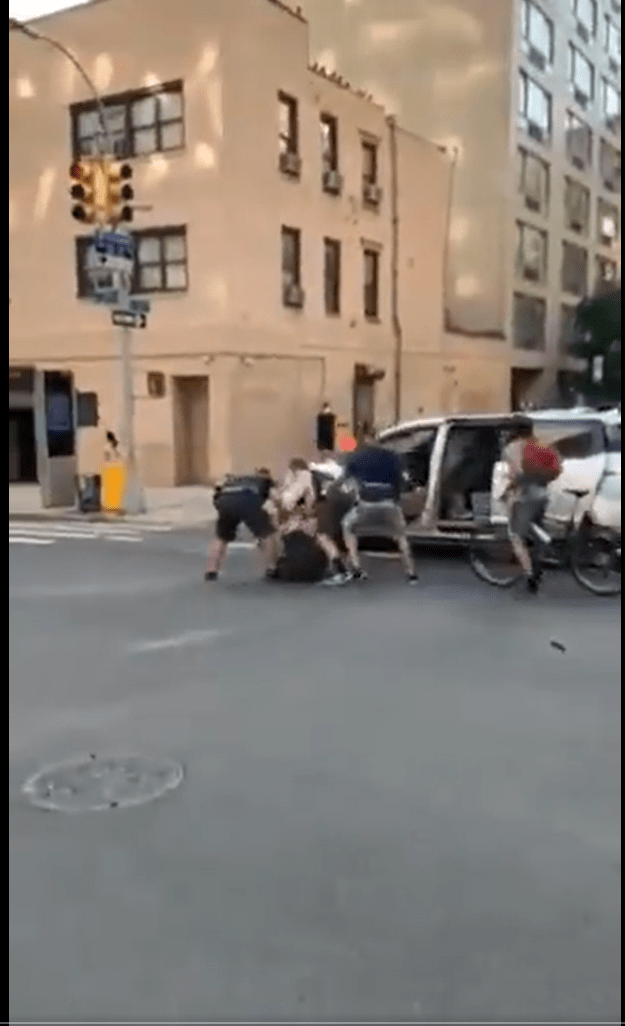 NEW YORK (77 WABC) — An 18-year-old protesting the NYPD was arrested and later released. But many found the interaction with police disturbing. It happened at 2nd Avenue and 25th Street Tuesday evening. Nikki Stone, a trans woman from the Lower East Side, was eventully freed to cheers from fans and supporters after five hours in police custody.
She said other than some scrapes, she's fine.
Stone was charged with vandalism and criminal mischief.
Video of the arrest is what has sparked the outrage, including by some elected officials. She was thrown into a unmarked car by plain clothes officers.
"The Warrant Squad uses unmarked vehicles to effectively locate wanted suspects," the NYPD tweeted.  "The woman … was wanted for damaging police cameras during 5 separate criminal incidents in & around City Hall Park."
Police also pointed out the arresting officers faced a brunt of rocks and stones thrown at them.
However, one witness told ABC7, "It looked more like a kidnapping than arrest."
"This is not Portland, and I want to emphasize, what you see on that video is NYPD officers. There are no federal agents involved," Mayor de Blasio said. "I think it was the wrong time and the wrong place to effectuate that arrest."
The mayor said he'll speak to Commissioner Shea about other ways to make an arrest like that and "not in the middle of an ongoing protest."
Among the elected officials demanding answers is Comptroller Scott Springer who tweeted, "I'm deeply concerned by the videos circulating of a protester being thrown into an unmarked van."
Let's all agree that @NYCMayor cannot show up at his press briefing today unless he's taken the time to watch this video.

New Yorkers are tired of the constant excuses. https://t.co/EAn0DN9sfT

— Scott Stringer (@scottmstringer) July 29, 2020
In regard to a video on social media that took place at 2 Ave & 25 St, a woman taken into custody in an unmarked van was wanted for damaging police cameras during 5 separate criminal incidents in & around City Hall Park. The arresting officers were assaulted with rocks & bottles. pic.twitter.com/2jGD3DT3eV

— NYPD NEWS (@NYPDnews) July 29, 2020
18-year-old protester freed after being shoved into unmarked NYPD van https://t.co/cfwRSqcoMh pic.twitter.com/EZXTsdzews

— New York Post (@nypost) July 29, 2020