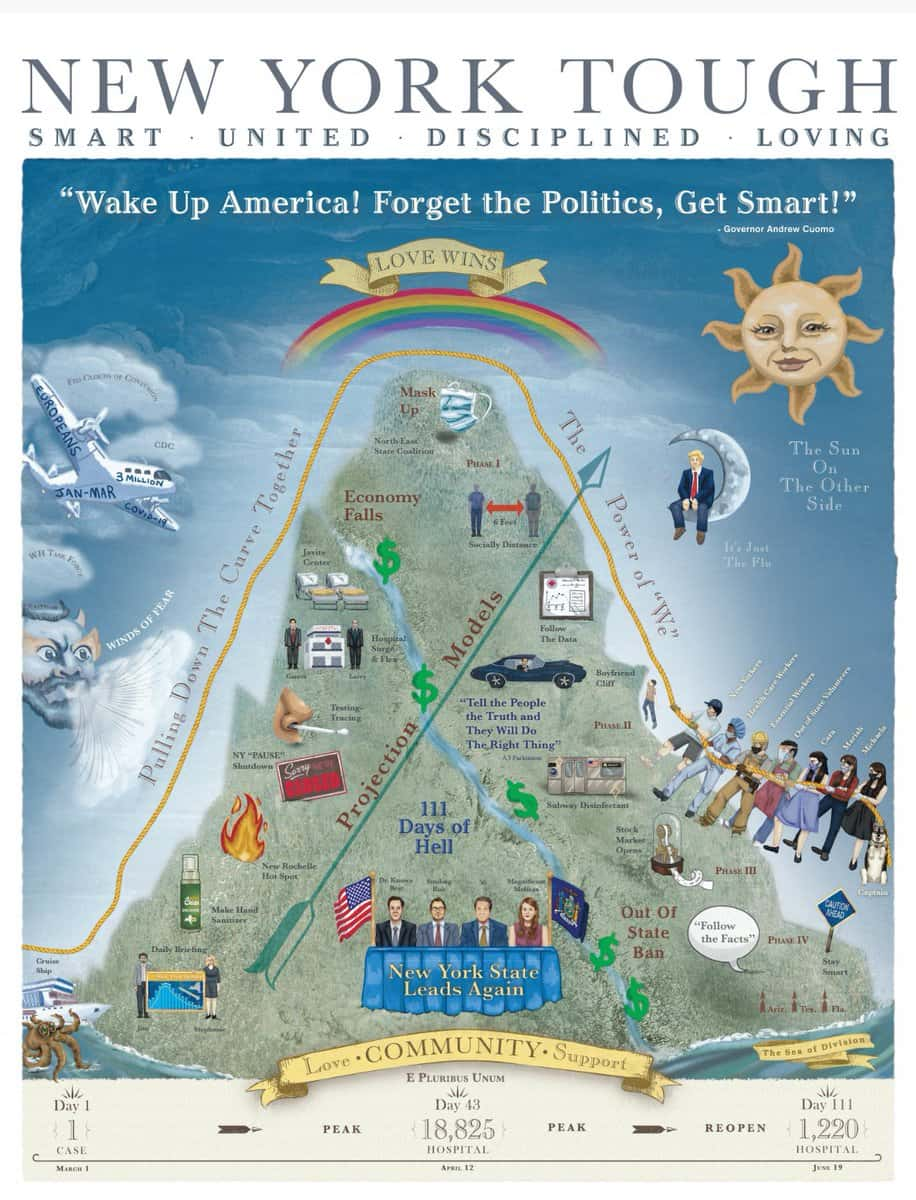 NEW YORK (77 WABC) — As an homage to 19th century campaign paraphernalia, Governor Cuomo unveiled a poster documenting some memories from the past several months. Criticism followed for the governor, who took New York, one of the few states, to the other side of the coronavirus.
The New York Tough poster is available for purchase online. As of last night, there were 12,000 pre-orders.
Drawn within the "mountain" that New York faced with COVID-19 cases, the early hot spot in New Rochelle is there, as is President Trump sitting on a crescent moon with the words "It's Just the Flu" written below. There are also tongue-in-cheek references to the daily briefings, including the "Boyfriend Cliff."
But, CNN's Jake Tapper said there were no mentions of number of dead, more than any other state, or the nursing home controversy.
"I'm a little surprised by that poster, I got to tell you," CNN's Dr. Sanjay Gupta said. "I think if anything, this virus has taught us, we need to have a significant amount of humility… Victory laps are not the thing to be doing, because we're not through with this by a long shot."
While Gupta understands Cuomo helped put the fire out in the state, there is a question among health experts that New York may have acted too slowly initially.
"Spare me the punditry, this is a cautionary tale and one this illustration made crystal clear, could and will, repeat itself if we don't continue to stay smart, socially distance wash your hands and wear a mask," Cuomo senior advisor Rich Azzopardi told WABC Radio.com.
6/ There are many New York citizens put off by the crowing and the poster sales.

It's great that the number have gone down, and I hope to God they stay there.

But New York's leaders were late and made many mistakes; it's been an absolute tragedy.

— Jake Tapper (@jaketapper) July 14, 2020
.⁦@NYGovCuomo⁩ pummeled online for selling poster touting New York's COVID response.
"The narcissism and gall is stunning." https://t.co/FK7lWtJwXI

— Janice Dean (@JaniceDean) July 14, 2020