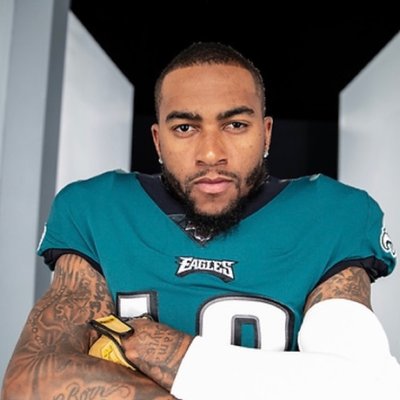 (Photo from Twitter: @DeSeanJackson10)
NEW YORK (77 WABC) — Philadelphia Eagles wide receiver DeSean Jackson has apologized after receiving plenty of criticism for a series of controversial recent Instagram posts.
On Monday, Jackson used a quote that he attributed to Adolf Hitler that said white Jews "will blackmail America. [They] will extort America, their plan for world domination won't work if the Negroes know who they were."
He also shared posts where he expressed admiration for Nation of Islam leader Louis Farrakhan, recognized by the Anti-Defamation League as anti-Semitic.
But Jackson said the posts were "taken the wrong way."
In a video apology Tuesday on Instagram, Jackson said, "I never put any race or any people down. My post was definitely not intended for anybody of any race to fell any type of way, especially the Jewish community. When I posted it, I definitely didn't mean it to the extend that you guys took it… I'm very apologetic."
Jackson added that he "probably should have never posted anything Hitler did. Because he was a bad person and I know that."
The Eagles issued a statement that said in part, "Regardless of his intentions, the messages he shared were offensive, harmful and absolutely appalling."
The team said beyond an apology they want Jackson to use "his platform to take action to promote unity, equality and respect."
The Anti-Defamation League of Philadelphia on Tuesday asked on social media for Jackson to "immediately apologize."
https://twitter.com/DeSeanJackson10/status/1280211671458381825?s=20
DeSean Jackson posts a video apology on his Instagram. pic.twitter.com/iWSpv0ypqo

— Tim McManus (@Tim_McManus) July 7, 2020
Eagles' statement on DeSean Jackson: pic.twitter.com/IPDUYpTRTJ

— Adam Schefter (@AdamSchefter) July 7, 2020