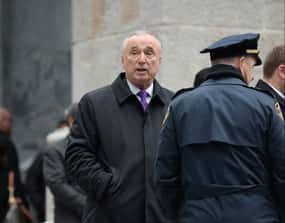 NEW YORK (77 WABC) — There has been a slew of shootings across the five boroughs with 10 dead from gunfire yesterday.
Former NYPD Commissioner Bill Bratton said a number of factors are the cause.
"The bad news is probably going to get worse," Bratton told WABC Radio. 
He thinks violence will grow throughout the summer.
"I see nothing that is happening in the City of New York that is going to reduce those figures," Bratton said.
The city's former Top Cop puts bail reform ("a terrible piece of legislation") as a main reason for the large amounts of crime.
But the coronavirus pandemic also had its hands in the problem, Bratton said, due to emptying prisons.
The shootings comes as $1 billion is getting removed from the NYPD's budget.
"The city's a mess and it's going to get a lot worse, unfortunately," Bratton said.
Bratton had two tour of duties as police commissioner in New York, including for Mayor de Blasio.
"I'm disappointed with the whole political establishment, here in the state, up in Albany, and at the city, that they've effectively, collectively and individually turned their backs in many respects, on the entity that's most responsible for the crime decline… the police," Bratton said.