Photo (Philip Bermingham) 
NEW YORK (77 WABC) — John Bolton is reportedly the person who gave President Trump intelligence on the Russians covert operation with the Taliban to kill American soldiers. That important tidbit was redacted as classified and not part of his new book, "The Room Where it Happened."
While he couldn't comment directly on that piece of information, Bolton said, "I certainly think it's accurate to say he didn't like hearing negative things about Putin or Russia," Bolton told WABCRadio.com. "…I do think that there was some effort to avoid unnecessarily getting into difficulty with him."
Specifically to the recent reports of using terrorists to murder Americans, "I'm surprised that the president wasn't given some notice of it that he seems to deny entirely so he can say: 'It's not my responsibly.' I'm surprised at how confused their reaction is."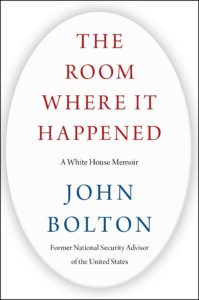 From Russia to Ukraine, and the impeachment proceedings earlier this year. Bolton, who ultimately decided testifying would not make a difference in the outcome, would have voted to convict Trump.
"What he did was use legitimate government power for an illegitimate purpose– his own political benefit," Bolton intimated. "…I think what the president did crossed the line."
Bolton, who worked for three previous Republican presidents (Reagan and Bush 41 and 43) was Trump's National Security Advisor for 17 months. He got an up-close look at how Trump runs his unorthodox presidency.
"He doesn't approach government at all from a philosophical basis. Policy is not something that he pays much attention to," Bolton said. "The decisions are ad hoc and episodic."
But Bolton is concerned it could even worsen if Trump wins in November.
"Once he's elected, [he] longer needs to depend on a political base. It's going to be very hard to predict what he'll actually do."
Because of those strong feelings for his former boss, Bolton has no intentions to vote for Trump this time. He also refuses to give his vote to Joe Biden as they don't share any ideology. Instead, he'll write-in a — still to be determined — conservative Republican.
"I'm left in a very unhappy position this election," Bolton said.
Since the book was published, Trump tweeted Bolton was a "wacko" and "sick puppy." Unpleasantness aside, could he envision a return to work in the administration as a stabilizing force heading into the election?
"I don't plan to sit by my phone waiting for that call from President Trump. I don't think it's going to happen."