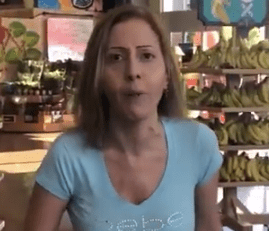 (Photo from TMZ.com)
NEW YORK (77 WABC) — A woman made a scene at a California Trader's Joe about  wearing a face mask. The woman was caught on video for having an outburst for having to wear the facial covering, TMZ reported.
After being told to wear a mask in the North Hollywood store, the woman went on the tirade that she's unable to put it on "because I have a breathing problem. My doctor would not let me wear a mask."
She went on to say in her expletive-laced rant that anyone harassing her about the mask is "violating federal law."
The woman, who also screamed that the mask requirement was only a Democratic ploy, was ordered to leave.
Los Angeles is seeing an uptick in cases, with more than 1,800 new daily cases and 25 deaths.
Opening day at Trader Joe's in North Hollywood, Ca.

Karen is mad she was mask shamed… pic.twitter.com/pF3Zgj3w2E

— Rex Chapman🏇🏼 (@RexChapman) June 27, 2020
Hi, Karen, who had the meltdown at Trader Joe's and claims to have breathing problems. This video is for you and your brethren. #WearAMask https://t.co/O6Z0KiO1hl

— Jay (@AhLiaisons) June 27, 2020