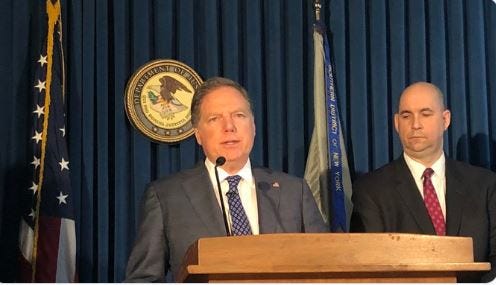 WASHINGTON (AP) — The extraordinary standoff between Attorney General William Barr and the top federal prosecutor in Manhattan has ended. The prosecutor, Geoffrey Berman, stepped down Saturday after Barr agreed that his deputy could replace him. Barr said earlier in the day that President Donald Trump agreed to remove Berman, but the prosecutor remained working. Trump added to the confusion by telling reporters Saturday that the decision "was all up to the attorney general." The powerful prosecutor in the Southern District of New York had been overseeing investigations of Trump's allies. Late Friday, Barr announced that Berman had resigned, but Berman denied it.
House Judiciary Committee chairman Jerry Nadler said Berman is invited to testify Wednesday.
Rep. Hakeem Jeffries, a member of the committee, is hopeful "at some point" the committee will hear from Berman.
"I think he has a lot to say about a continuing pattern of chaos, crisis and corruption that we have seen from the Trump administration, from the very beginning until this very day," the Brooklyn congressman told ABC News.
While Trump has the right to fire Berman, Jeffries said in investigating political interference, the committee will "present the facts to the American people and take it from there"
Rep. Hakeem Jeffries says he hopes former U.S. attorney for SDNY Geoffrey Berman will testify before Congress "because I think he has a lot to say about a continuing pattern of chaos, crisis and corruption that we have seen from the Trump administration." https://t.co/n0lcA5Reyx pic.twitter.com/pb6R8pIz2q

— This Week (@ThisWeekABC) June 21, 2020