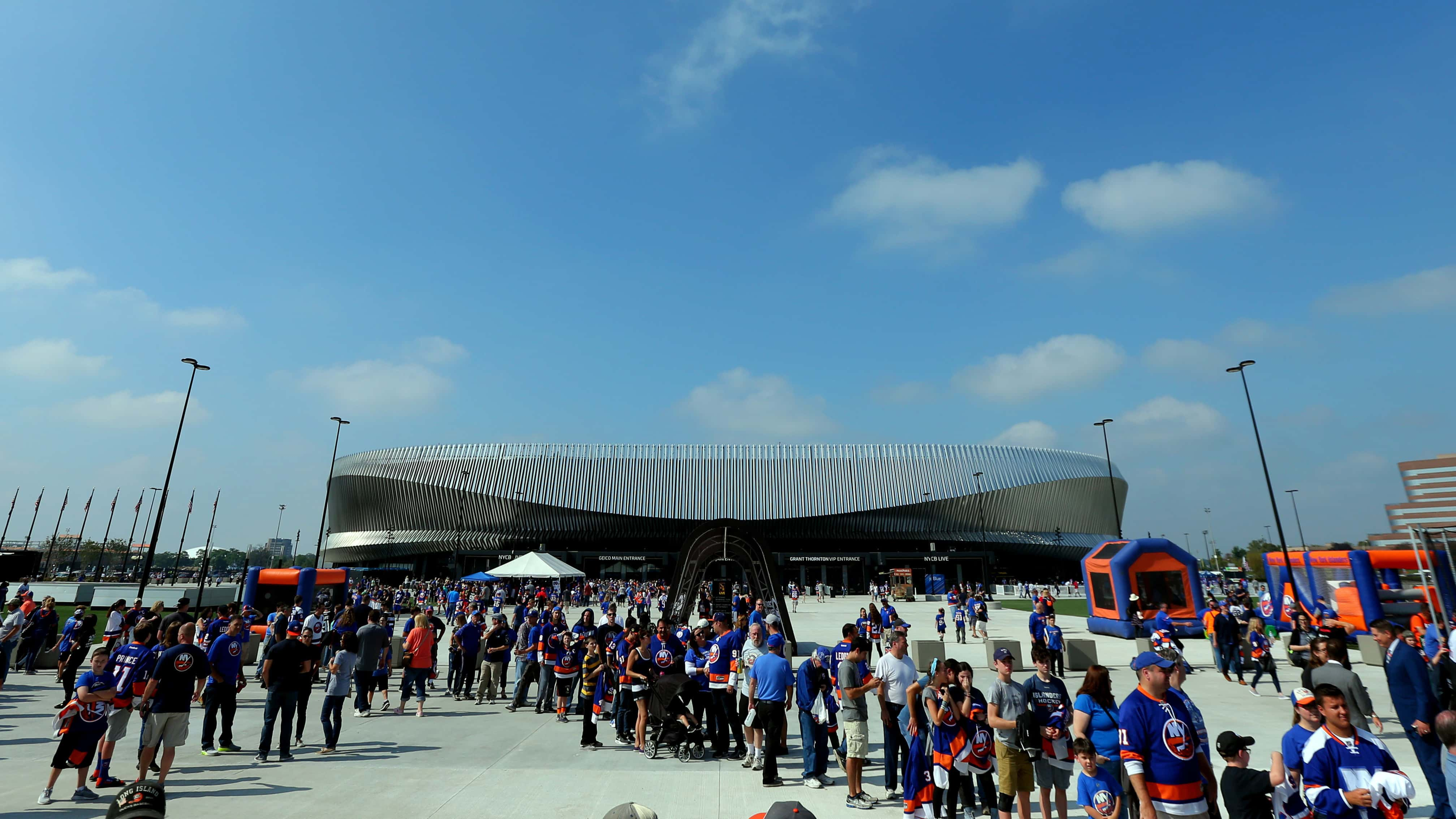 NEW YORK (77 WABC) — The Nassau Coliseum, the temporary home of the New York Islanders, is closing its doors indefinitely as its operator looks for investors to take over control of the Long Island venue.
The Coliseum is run by billionaire Mikhail Prokhorov's Onexim Sports and Entertainment under a 49-year lease with Nassau County. The company is looking to turn over the lease to the building in exchange for the new investors to take the roughly $100 million in loans on the property, Bloomberg reported.
A spokesperson for Prokhorov later confirmed the report to Newsday on Tuesday afternoon.
The latest twist in the ongoing saga of the Nassau Coliseum also throws the Islanders' immediate future into flux. The team was going to play all of its 2020-21 home schedule at the Nassau Coliseum while their new arena at Belmont Park was being complete.
New York Gov. Andrew Cuomo had been at the venue in February to announce that the Islanders would be returning to Long Island a full year early. The team has split home games between the Coliseum and Barclays Center in Brooklyn the previous two seasons under a unique agreement that was facilitated with help from the governor's office.
The expectation now is that the Islanders would play next season in Brooklyn as part of that agreement, which was configured in 2018. The team's new arena is expected to be completed by October 2021.
The Nassau Coliseum had been home to the Islanders from 1972 until 2015, when the club moved to Brooklyn. The arena underwent a $180 million renovation after the Islanders left which downsized the venue to just over 13,000 seats.
The Coliseum is also home to the Long Island Nets of the NBA G League and the New York Riptide of the National Lacross League.
Prokhorov took over an 85 percent stake in the company that operates the Coliseum from developer Bruce Ratner in 2015. The Russian Billionaire became the sole leaseholder in 2018 when he bought out Ratner's remaining interest.
Prokhorov retained control of the Nassau Coliseum after selling the Brooklyn Nets and Barclays Center to Joseph Tsai last year and Onexim has an ownership stake in a redevelopment project for the surrounding land at the Coliseum.