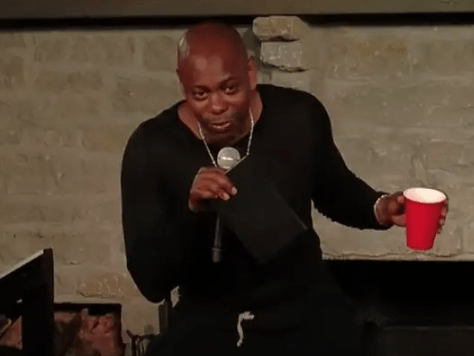 (Photo from Twitter: @barstoolsports)
NEW YORK (77 WABC) — Comedian Dave Chappelle is taking on the George Floyd death in a new Netflix special (seen below).
Chappelle, who is never one is parse his words during his act, took a serious turn in describing the actions of the now-ex-Minneapolis police officer Derek Chauvin.
"This man kneeled on his neck for eight minutes and 46 seconds," 8:46 was used for the title of his special.
Chappelle said he was frightened years earlier that he would die during his first earthquake, but that "couldn't have been more than 35 seconds."
He questioned, "What are you signifying that you can kneel on a man's neck for eight minutes and 46 seconds and feel like you wouldn't get the wrath of God? That's what is happening right now."
Chappelle told the crowd that he didn't mean to get heavy, but "we've got to say something," leading to applause from the smaller, social distanced audience in Ohio, recorded June 6.
Netflix posted the video first to its YouTube channel with a comment from Chappelle:
"Normally I wouldn't show you something so unrefined, I hope you understand."
It was 87 days since he appeared on stage due to the coronavirus and said it was first concert in North America since the shutdowns.
"Like it or not, it's history. It's gonna be in the books," Chappelle said.