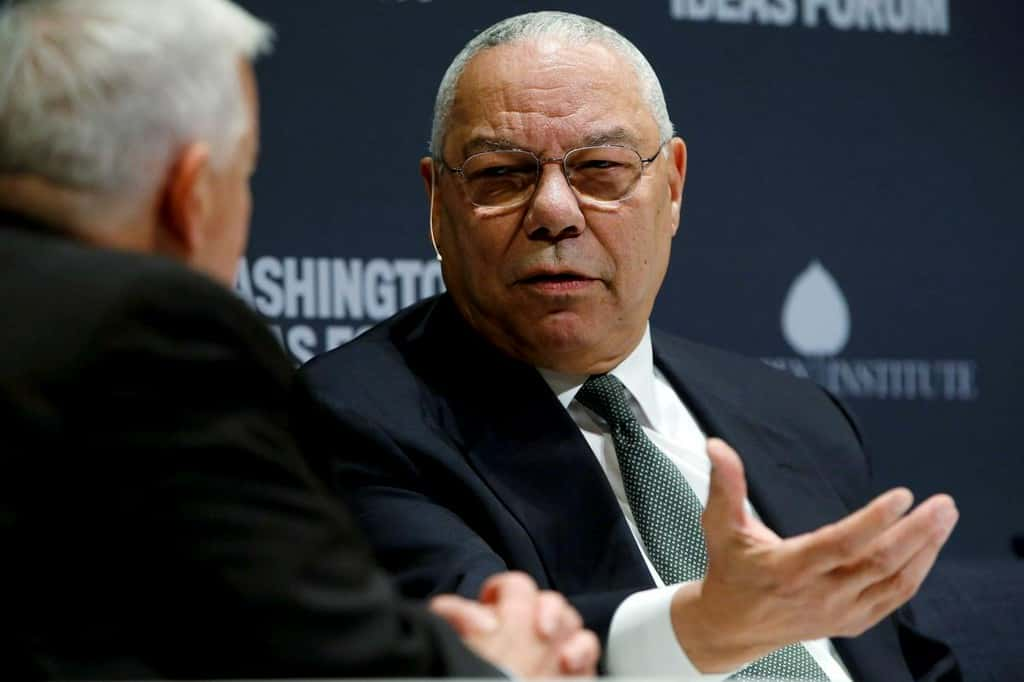 (Photo from Twitter: @Reuters)
NEW YORK (77 WABC) — Colin Powell, who was President George W. Bush's Secretary of State, is supporting Joe Biden for president.
Powell on CNN's State of the Union with Jake Tapper said of President Trump, "He lies. He lies about things and he gets away with it because people will not hold him accountable."
But Powell said it's equally as important to see how his party handles Trump.
"Even more troubling, the Congress would just sit there and not in any way resist what the president is doing," Powell said.
He said Republican lawmakers stood silent after protests broke out nationwide and officers forced peaceful protesters to leave for a Trump photo op at a nearby church.
"Most of all, we have the people of the United States, the ones who vote– the ones who vote him in, and the ones who vote him out," Powell told CNN.
The former Secretary of State and Chairman of Joint Chiefs of Staff said he couldn't vote for Trump four years ago, "and I certainly, can not in any way support President Trump this year."
It didn't take long for Trump to tweet his thoughts of the interview, calling Powell, "a real stiff who was very responsible for getting us into the disastrous Middle East Wars."
Trump added in the same tweet that Powell "will be voting for another stiff, Sleepy Joe Biden."
The president also attacked him for saying there were weapons of mass destruction in Iraq.
"They didn't, but off we went to WAR!" Trump tweeted.
In a separate tweet, Trump listed his first-term accomplishments for Powell, including: "almost 300 Federal Judges approved (a record), Two Great Supreme Court Justices, rebuilt our once depleted Military."
"He lies. He lies about things. And people are not holding him accountable," Gen. Colin Powell, condemning Republicans in Congress who have remained silent. https://t.co/6pvmSpOvSn

— Shannon Watts (@shannonrwatts) June 7, 2020
Colin Powell, a real stiff who was very responsible for getting us into the disastrous Middle East Wars, just announced he will be voting for another stiff, Sleepy Joe Biden. Didn't Powell say that Iraq had "weapons of mass destruction?" They didn't, but off we went to WAR!

— Donald J. Trump (@realDonaldTrump) June 7, 2020
Somebody please tell highly overrated Colin Powell that I will have gotten almost 300 Federal Judges approved (a record), Two Great Supreme Court Justices, rebuilt our once depleted Military, Choice for Vets, Biggest Ever Tax & Regulation Cuts, Saved Healthcare & 2A, & much more!

— Donald J. Trump (@realDonaldTrump) June 7, 2020
What seems to me to be bigger news than Colin Powell's endorsement of Joe Biden is the way he calls out Republican senators and others who normalize the president's actions. This focus on other elected officials is an increasing part of the anti-Trump movement.

— Dan Rather (@DanRather) June 7, 2020