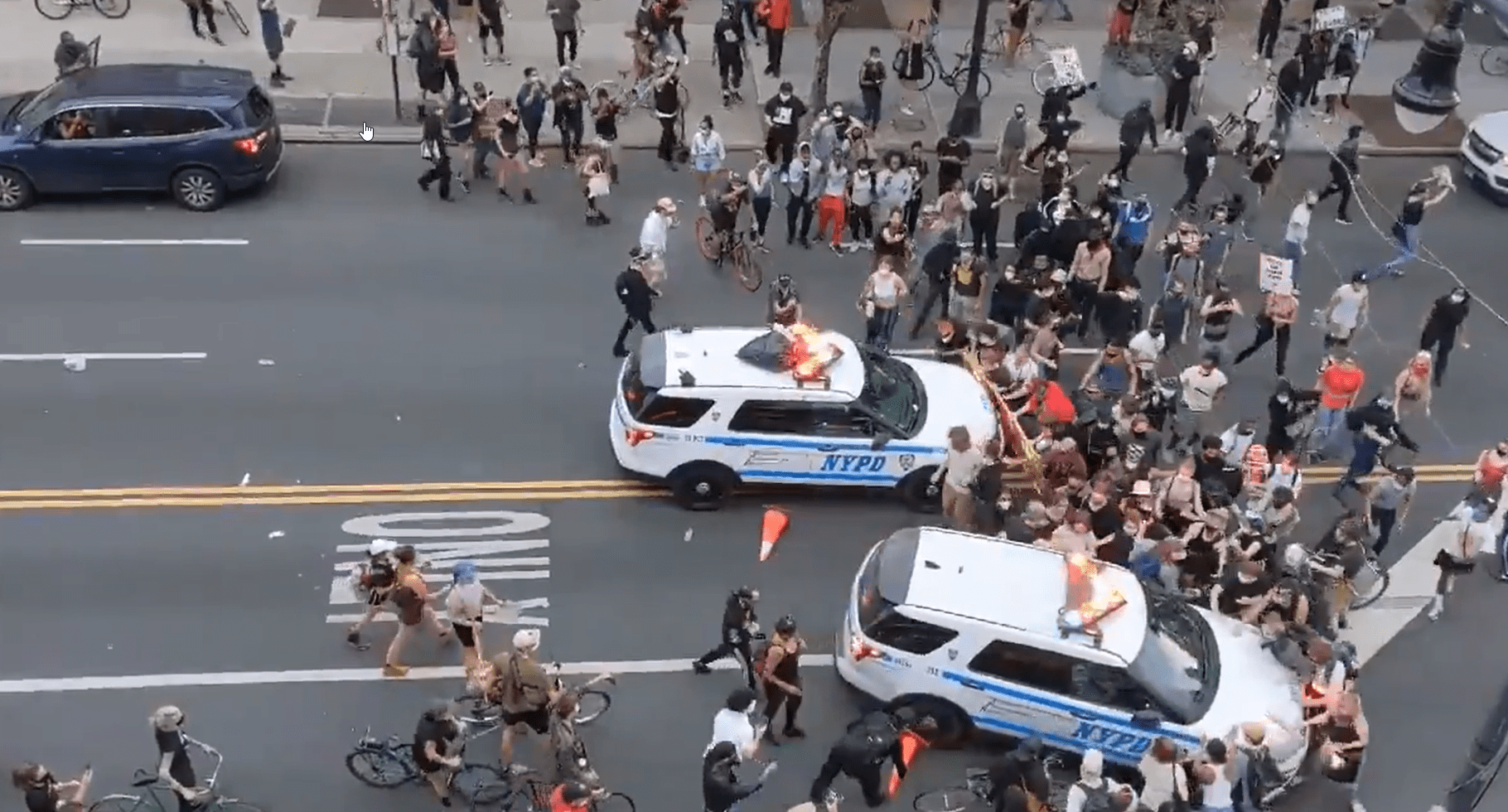 (Photo from Twitter @stillgray) 
NEW YORK (77 WABC) — It was another night of violence in New York City, as protesting the death of George Floyd got out of hand in Brooklyn and Manhattan.
The NYPD said more than 300 people were arrested from Saturday's criminal activity in the streets.
Commissioner Dermot Shea said more than 30 officers suffered minor injuries.
Mayor de Blasio said police, overall, showed "tremendous restraint."
But video of two police cruisers plowing into protesters in Brooklyn was an incident that the mayor said, "I didn't like what I saw one bit. I don't want to ever see that again.
de Blasio said there will be a full investigation, but "that situation was created by a group of protesters blocking and surrounding the police vehicle."
The mayor said it's important to present both sides of what took place.
"I saw people converging on the police vehicle. I saw people throwing things at the police vehicle. That is not peaceful protest. So let's not kid ourselves….You can't stay there. You can't out of the vehicle. You have to get yourself and the vehicle out of the situation safely for all."
Governor Cuomo, however, said he saw the videos and called the actions, "truly disturbing" and "inexplicable to me."
The governor said those videos would be added to the investigation being conducted by Attorney General Letitia James.
"There are protests and there are mob," Shea said what he saw in that video was akin to a mob.
"A protest does not involve surrounding and ambushing a marked police car, putting my officers and my detectives lives at risk," Shea added.
The mayor said they are anticipating more protests tonight, but will not follow other cities with a curfew.
Shocking footage of NYPD plowing a police car through protestors. pic.twitter.com/3zP6om93su

— Li Shu Chou (@LiShuChou1) May 31, 2020