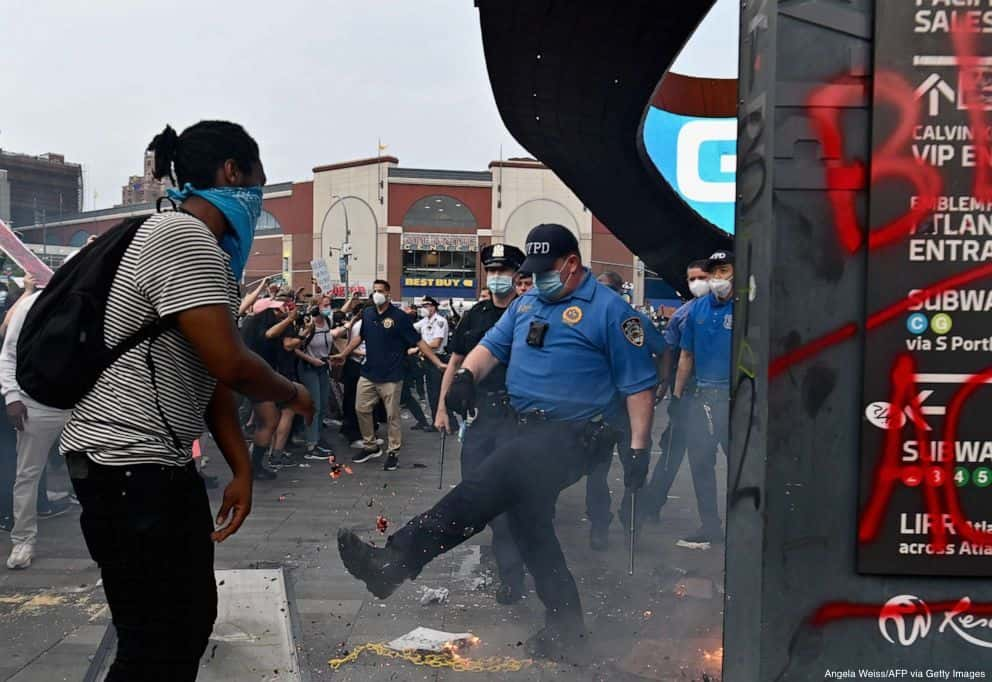 (Photo from Twitter @ABC)
NEW YORK (77 WABC) — Another night of unrest in cities across the country following the deadly arrest of George Floyd in Minneapolis. In New York last night, the NYPD said at least 200 people were arrested.
NYPD vehicles were set on fire, windshields smashed, and cops were injured amid tense confrontations with demonstrators.
Commissioner Dermot Shea said one person was charged with attempted murder for throwing a Molotov cocktail into an occupied, marked police van, with four officers inside.
A firearm, brass knuckles, bricks and other items were thrown at officers, he also said.
"These protests brought up a lot of issues that we have to address," de Blasio said Saturday. "…It's the NYPD's obligation to find to the best possible way to keep peace."
Protesters gathered lower Manhattan and Brooklyn near the Barclays Center, where bottles were thrown at officers.
Some cops were seen on video getting aggressive, including one instance where a woman was shoved face down onto the sidewalk.
"Anytime you see a protester just arbitrarily thrown to the ground by a police officer, that does not reflect our values," de Blasio said. "That's unacceptable and their needs to be consequences."
At the 88th precinct, police vehicles were vandalized and spray painted.
The mayor said a small number of protesters had an agenda to harm police officers, vehicles and precincts.
"We will have zero tolerance for individuals looking to cause harm to anyone, and unfortunately we saw that repeatedly last night," Shea said.
"That is all purely unacceptable," he said.
Governor Cuomo said that Attorney General Letitia James will handle an independent review. He wants it completed within 30 days.
"People do deserve answers," Cuomo said. "…There is a significant amount of concern about what actions were taken."
"I want their to be accountability for anyone, whatever their status, but I also want to know what we can do better to avoid any acts of violence," de Blasio said.
Cuomo said, "I know the mayor has taken note of last night and I'm sure they're going to be conversations today about how to handle tonight."
Protesters attempted to take over the 79th precinct, but were pushed back and people were taken into custody, ABC7 said.
More than 70 people were arrested from Thursday night protesting in the five boroughs.
https://twitter.com/Breaking911/status/1266552990820900864?s=20
Here's an NYPD officer violently throwing a woman to the ground with no intention on arresting her, just inflicting pain.

Find this officer and fire him immediately, @NYPDShea. pic.twitter.com/zgPwnUcWrw

— Sawyer Hackett (@SawyerHackett) May 30, 2020
Aftermath of violent protests in Brooklyn. Crime scene unit processing damage to #NYPD vehicles outside 88th precinct. pic.twitter.com/MgeZHdfcsp

— Marcus Solis (@MarcusSolis7) May 30, 2020