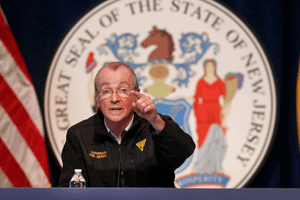 NEW YORK (77 WABC) — New Jersey Governor Phil Murphy is expanding outdoor gatherings. An executive order by Murphy permits up to 25 people.
However, indoors remains at no more than 10 individuals.
He also said all campgrounds– public or private– can reopen effective immediately.
Murphy is also raising capacity to 25 for batting cages, driving ranges and charter and  fishing boats.
All social distancing remains in place, as attendees must stay at least six feet apart at all times.
"Our steady progress on the road back has been made possible through hard work and personal responsibility of New Jerseyans to safeguard public health," Murphy said.
The number of deaths rose to 146 for a 10,985 since the pandemic started.
But the governor said the major indicators are trending lower, including the number of patients in the ICU and those on ventilators dropped to 674, nearly half of what it was two weeks ago.
There were 1,394 new positive COVID-19 tests.
Murphy said the state still hasn't received much-needed financial assistance for the fiscal gap.
Today, he announced a $10 million investment for the Department of Health going toward long-term care facilities.
"We're doing our best to preserve our most-critical investments where we can," Murphy said. 
Today we're forced to begin making some hard decisions.

We're doing our best to preserve our most-critical investments where we can.

We're proposing a $10 million investment for @NJDeptofHealth for our long-term care facilities.

— Governor Phil Murphy (@GovMurphy) May 22, 2020
We are NOT ASKING Washington for a bailout.

We ARE ASKING for aid to pay our police, fire, and EMS first responders. To keep our public health workers on the job for our recovery. To ensure our kids have the educators they will need come fall.

— Governor Phil Murphy (@GovMurphy) May 22, 2020