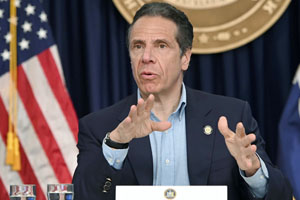 NEW YORK (77 WABC) — As New York begins the process of moving back to version of normal, Governor Cuomo is lifting the elective surgery restriction in Rockland County.
The number of deaths dropped to 105, holding at the level from March 26.
"We got through it. We got over the mountain, literally and figuratively," Cuomo said.
But there is still a COVID-related illness in children. The state Department of Health is now investigating 157 cases.
That complicates plans for education. He said all summer school will be through remote learning. Mayor de Blasio already announced that for city students last week.
But the question remains– what happens with the fall semester? Cuomo said it's too early to make a determination.
The state will issue guidelines next month so colleges and public schools can start to plan for different scenarios. Those proposals would submitted for approval by the state in July.
Several beaches on Long Island will open starting tomorrow, including Jones Beach and Sunken Meadow, from 6 a.m. to 9 p.m. Beach is limited to 50%, which they expect by 10 a.m.  Areas of social gathering will be closed and group contact activities and sports are prohibited.
Masks must be worn by all employees and visitors.
Cuomo also said employees who believe PPE or social distancing guidelines aren't being followed at the workplace should call the New York Coronavirus Hotline: 1 888-364-3065.
As the tracing operation gets started, Cuomo wants anyone who gets a call from "NYS Contact Tracing" to answer the phone.
"It's not a hoax, it's not a scam, it's not a fraud," Cuomo said.
To help small businesses, the state is extending the sales tax filing deadline for second time to June 22.
.@NYGovCuomo says there has been no decision yet on whether day camps can open for the summer, but as of right now, with this new inflammatory syndrome in children, as a parent he would NOT send his own kids to camp, and would not want others too either.

— Zack Fink (@ZackFinkNews) May 21, 2020
NYS is now investigating 157 cases of the COVID-related illness affecting children.

I urge parents to watch out for the symptoms of this multisystem inflammatory syndrome and to seek care if your child has symptoms.

See the symptoms and learn more:https://t.co/AaGI7Gx9q9

— Andrew Cuomo (@NYGovCuomo) May 21, 2020