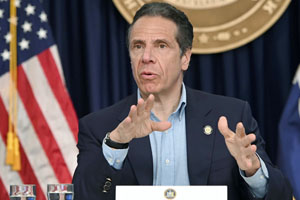 NEW YORK (77 WABC) — While indicators continue the trek downward, the number of deaths rose slightly in past 24 hours to 112.
There were 30 deaths in nursing homes.
Using data from antibody tests at churches in low-income area in the five boroughs, 27% of the people tested positive. The city's general population is at 20% positive for COVID-19 antibodies.
The highest percentage was in the Bronx– 34%, drilling down further, the Morrisania section had 43% positive rate, while 41% of those tested in Brownsville.
Governor Cuomo said the minorities in the low income neighborhoods had the higher amount of cases and hospitalizations. He announced the doubling of testing at churches to 44 in impacted areas, with a partnership from Northwell Health.
Another partnership will yield 28 testing sites at churches and community-based providers in predominately minority neighborhoods in the city.  The state is also expanding testing to 40 NYCHA complexes.
Starting tomorrow, Cuomo is permitting religious gathering of up 10 people statewide with strict social distancing measures and wearing masks.
The governor unveiled five finalists for the public service announcement about the need to wear a mask. The public can select the winner at coronavirus.health.ny.org.
Low-Income communities & communities of color have been hit hardest by this virus.

Today we're expanding our faith-based testing program (with @NorthwellHealth & SOMOS) to 72 locations in hardest-hit communities.

We will also expand testing to 40 public housing developments.

— Andrew Cuomo (@NYGovCuomo) May 20, 2020
We launched a video contest asking New Yorkers to explain in their own words why NYers should wear a mask in public.

Watch the 5 video finalists and vote for the winning video here:https://t.co/5ki6iPh1zy

— Andrew Cuomo (@NYGovCuomo) May 20, 2020