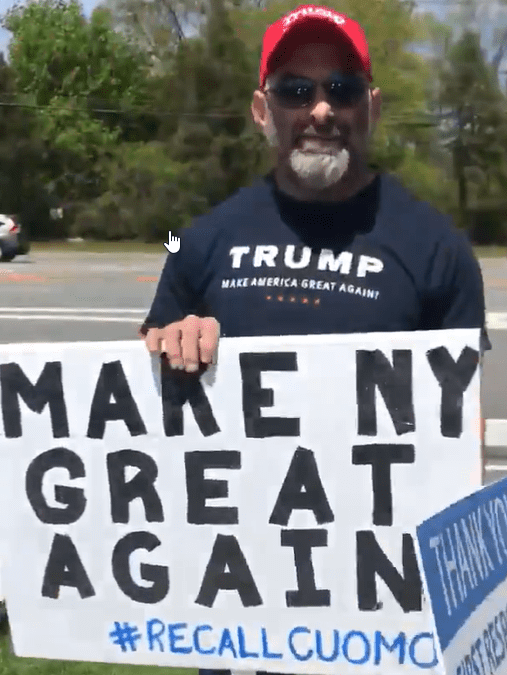 (Photo from Twitter @KevinVesey)
NEW YORK (77 WABC) — An angry group of protesters in Suffolk County want to get back work amid the coronavirus pandemic, but instead focused their energy on disdain for the media.
It caught the eye of President Trump who retweeted the video from News 12 Long Island reporter Kevin Vesey, and then retweeted it two more times with comments (seen below) "Fake news is not essential," a line the group chanted on the video below, and "People can not get enough of this. Great people!"
One protester looked into the camera and complained about his news station.
"You stopped airing the Trump briefings and keep airing the Cuomo briefings. Go home you fake news."
Another person is heard in the background yelling, "You are the enemy of the people!"
The overwhelming majority of those gathered did not have on a mask or face covering, but several people held Trump banners or wore Trump shirts.
As the camera assessed the location, a woman approached with a Small Business is Essential sign. She pointed at the reporter, "You are fake news. We all know it. You are fake news."
While Vesey was unavailable for a comment, a News 12 spokeperson told WABC Radio.com, "The events that transpired during Kevin's reporting were unfortunate, but he calmly and objectively captured the raw emotion occurring during this pandemic."
Uglier still, a man said, "You are the virus."
Another man gave Vesey the middle finger and said, "You guys are [expletive] fake news."
This video contains explicit language.
"FAKE NEWS IS NOT ESSENTIAL!"https://t.co/5286zgRVWQ

— Donald J. Trump (@realDonaldTrump) May 16, 2020
People can't get enough of this. Great people! https://t.co/b4HM0C298h

— Donald J. Trump (@realDonaldTrump) May 16, 2020