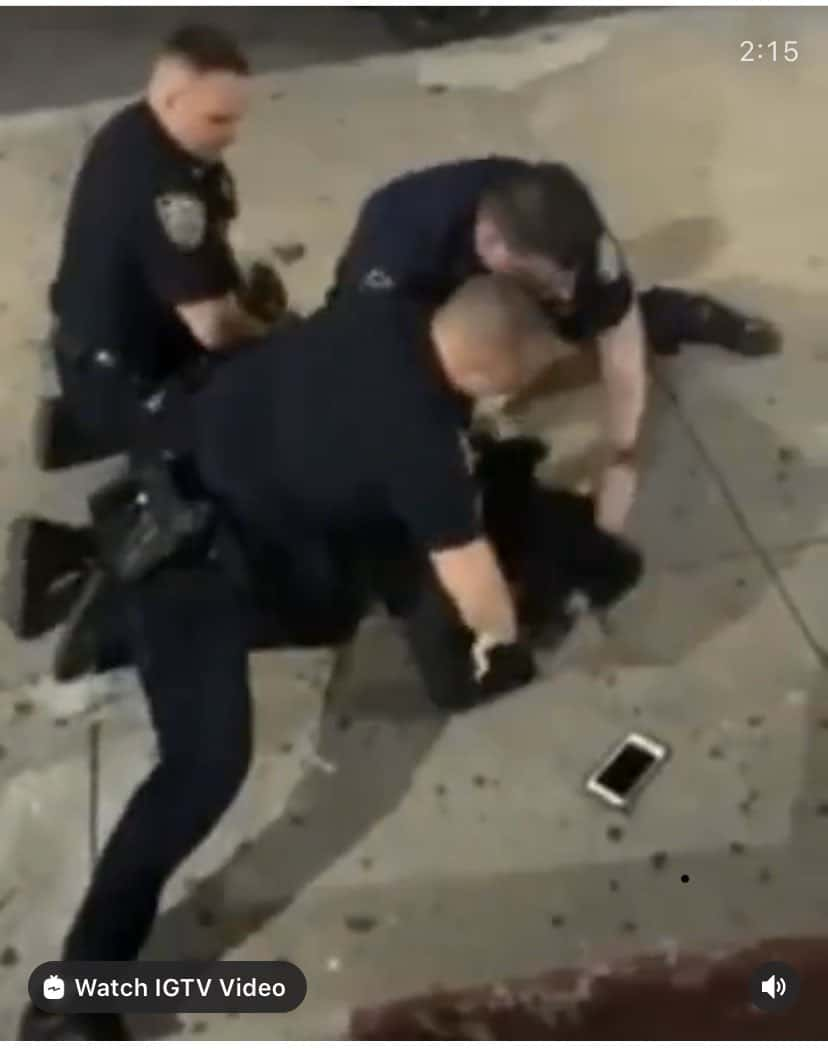 (Photo from Evelyn_)
NEW YORK (77 WABC) — An NYPD officer is on modified duty as the department investigates what Mayor de Blasio said was "not acceptable."
The viral video shows a plainclothes officer arrest two people outside a East Village deli Saturday at Avenue D and East 9th Street for violating the social distancing orders.
The officer then heads down the block, approaching Donni Wright, 33, with his Taser drawn.
Wright did not have a mask on, was told to move back after taking a "fighting stance against the officer," police told CBS News.
New Yorkers should always show respect for the NYPD "respect instructions and never fight with an NYPD officer," de Blasio said. "That is not acceptable. People are not ever allowed to use physical force against an NYPD officer. That's just not something that can happen in the city."
Police Commissioner Dermot Shea, "I was not happy with what I saw. We can be better than that."
The NYPD said Wright was charged with resisting arrest. The other individuals faced with disorderly conduct and marijuana charges.
John Miller, NYPD Deputy Commissioner of Intelligence and Counterrorism told CBS News, "Anybody who tells you that's not a disturbing videotape, hasn't see the videotape."
This incident follows another video involving cops in Brooklyn and a suspect this week. Video surfaced showing three white officers surround a black man, who had a mask on. While they held him on the ground, one cop punched him in the face.
"The common denominator is starting with a lack of compliance and respect here is a two-way street," Shea said in linking the two incidents.
The commissioner said a punch is not assumed to be excessive force, but they are reviewing each incident.
Both videos, shown below, contain explicit language.
IS THIS #NYPD BRUTALITY OR NOT? We report, you decide. This happened on Ave D and 9th St, in the #LowerEastSide of #Manhattan on Saturday – @NYCMayor @NYPDnews pic.twitter.com/0pTDTat17S

— NYC Scanner (@NYScanner) May 3, 2020
CW: Police Violence

Cell phone video shot last night in Brooklyn, shows an NYPD officer punching a Black teenager in the head as he is lying on the ground with his hands cuffed behind his back.

The cop then takes the person filming into custody.pic.twitter.com/Ek1bT0iK3G

— Rebecca Kavanagh (@DrRJKavanagh) May 5, 2020
Saw the video from the Lower East Side and was really disturbed by it. The officer involved has been placed on modified duty and an investigation has begun. The behavior I saw in that video is simply not acceptable.

— Mayor Bill de Blasio (@NYCMayor) May 3, 2020