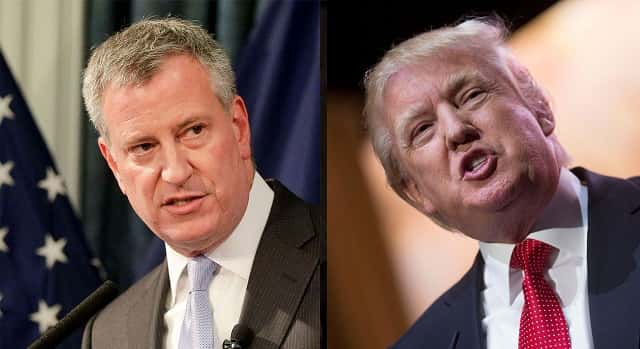 NEW YORK (77 WABC) — Mayor de Blasio opened his daily coronavirus briefing Tuesday with harsh words for President Trump.
"He sees the suffering here and decides that people in New York City don't deserve help," de Blasio said. "What kind of person does that?"
At issue is Trump's unwillingness to help bailout New York and other states, primarily run by Democrats, devastated economically.
"Who cares who runs the states?" de Blasio questioned. "The people need help. They're Americans who need help right now… It's absolutely unacceptable."
de Blasio announced 140,000 antibody tests will start by next week for health care workers and first responders.
Indicators were mixed, with the mayor happy to see the number of people in hospitals likely with COVID-19, down from 88 to 75, "That is a sea change from where we were a few weeks ago."
However, the number of people testing positive rose.
More problematic, de Blasio said there's a new health alert involving children. There have been 15 cases of multi-system inflammatory syndrome with fever, rash and abdominal pain. He said four tested positive for COVID-19 and six others had the antibodies.
None of the children died.
To support an overwhelmed 311 system, the city will add 285 trained call-takers and build four new call centers. They have also created an "express lane" for COVID-19 issues.
de Blasio said he's "increasingly hopeful" to have schools open in September.
Mayor de Blasio details a three-part action plan to support 311: 1. 285 new call-takers trained/4 new call centers built 2. Incorporated FDNY and NYPD leadership 3. "Express lanes" created for COVID-19 and food with little or no wait times most of the day in English or Spanish

— Spectrum News NY1 (@NY1) May 5, 2020
People admitted to hospitals for suspected COVID-19 and those in H+H ICUs with suspected COVID-19 both declined from May 2 to May 3, says the mayor. But the percent who tested positive grew from 17% on May 2 to 22% on May 3.

— Spectrum News NY1 (@NY1) May 5, 2020