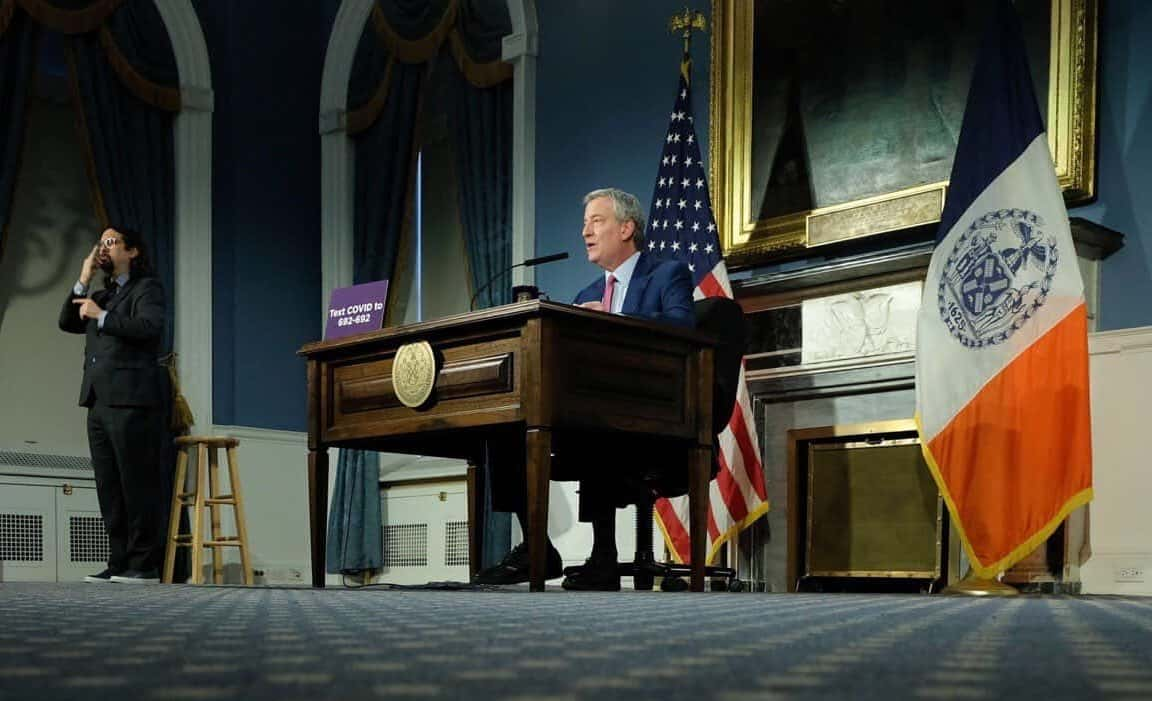 WATCH: NYPD officers break up large crowd after hundreds gather for a local rabbi's funeral in Brooklyn despite social distancing recommendations https://t.co/gd8rXjcomz pic.twitter.com/SDfYIzLQTp

— CBS News (@CBSNews) April 29, 2020
NEW YORK (77 WABC) — Thousands of Hasidic Jews gathered Tuesday night in Williamburg for the funeral of a prominent rabbi.
Mayor de Blasio learned about the social distancing violation and went to the location.
"The notion that people would gather in large numbers, even if they didn't mean to, would spread a disease will kill other members of the community, is just unacceptable," de Blasio said at his daily coronavirus briefing Wednesday.
Video shows people shoulder-to-shoulder, crammed on one block of Bedford Avenue for the procession, the largest gathering de Blasio had seen since the crisis started last month.
"We will work closely with the community, but we have to change this reality," de Blasio said.
The NYPD said 12 summonses were issued.
"Large gatherings, such as this, [are] putting members of my department as risk," Police Commissioner Dermot Shea. "It can not happen and it will not happen."
Shea said they will immediately be broken up with "stern consequences."
The mayor said there is no comparison to residents gathering at a parks.
"What we saw last night was absolutely unacceptable, and it would be unacceptable in any and all communities… The amount of danger that it created by that kind of gathering is inestimable. The fact that people will die because of it goes against everyone's values," de Blasio said.
However, Councilman Chaim Deutsch complained that the mayor singled out the "Jewish community." de Blasio apologized if his tweet last night offended, but "this is a community that I love.  If you saw anger and frustration, you're right. I spoke out of real distress that people's lives were in danger before my eyes and I was not going to tolerate it."
The mayor also said he won't tolerate anti-Semitism and "for decades I've made it my business to stand up for the Jewish community."
What???

This has to be a joke. Did the Mayor of NYC really just single out one specific ethnic community (a community that has been the target of increasing hate crimes in HIS city) as being noncompliant?? Has he been to a park lately? (What am I saying – of course he has!) https://t.co/LYKnUZm2Mc

— Councilman Deutsch (@ChaimDeutsch) April 29, 2020