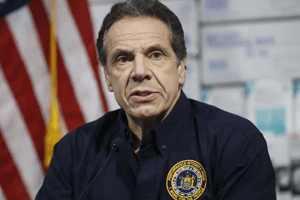 NEW YORK (77 WABC) — Hospitalizations in New York are continuing to drop and Governor Cuomo said it's at the lowest level since April 1.
"We would like to get to the days of only 400, 500 people showing new infections every day," Cuomo said.
While Cuomo said New York is "on the downside of the mountain," the death toll rose slightly yesterday to 437.
The governor is expanding the state's COVID-19 testing capability. He is signing an executive order allowing tests at any pharmacy.
All first responders, health care workers and essential workers are now eligible to get the test.
"The more we will open eligibility, hopefully one day we get to the point where anybody who wants a test can walk in and get a test," Cuomo said.
Additionally, the state is conducting antibody testing for frontline health care workers at four hard-hit city hospitals: Bellevue, Elmhurst, Montefiore and SUNY Downstate.
Next week, the antibody testing will expand to the members of the MTA, NYPD and state police.
NEW: Today we are conducting antibody testing for frontline healthcare workers at 4 NYC hospitals:

-Bellevue Hospital
-Elmhurst Hospital
-Montefiore
-SUNY Downstate Health Sciences

Next week we will conduct antibody testing for MTA/transit workers, NYPD and State Police.

— Andrew Cuomo (@NYGovCuomo) April 25, 2020
I will sign an Executive Order allowing independent pharmacists to conduct diagnostic Coronavirus tests.

This will unlock a network of over 5,000 pharmacies as COVID-19 testing locations.

Social distancing measures still apply.

This will help us meet new lab capacity.

— Andrew Cuomo (@NYGovCuomo) April 25, 2020