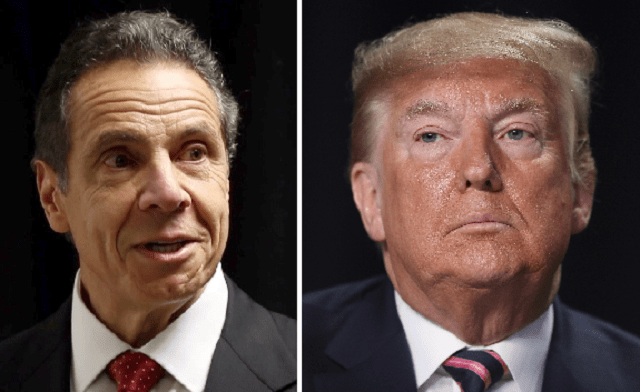 NEW YORK (77 WABC) — Governor Cuomo visited President Trump this afternoon to discuss the need for the federal government to help with COVID-19 testing and funding.
"The meeting went well and I think it was productive. The big issue was testing. As everyone knows, that's going to be the next step as we go forward and how do we separate the responsibilities and the tasks on testing vis-a-vis the state and the federal government and the acknowledgment that we all need to work together on this," Cuomo told MSNBC. 
The governor said it was his request for the face-to-face meeting about how to ramp up testing to ensure residents' safety.
"It is how you educate yourself as you're making reopening decisions and it's a frontier that we have never done before. This is all basically private sector labs and private sector manufactures, and how do you get them to increase their volume tenfold, when it's not really a government function at all. And how can the federal government help and how can the states help? That is the issue for the country right now, I think."
He thanked Trump for use of the Naval hospital, but "We don't really need the Comfort anymore. It did give us comfort, but we don't need it anymore so if they need to deploy it somewhere else they should take it."
The two native New Yorkers talked about the stillness of the city during this pandemic.
"He spoke about how he's never seen the city this way. And I agreed with him, I'm a born and bred New Yorker, more years than I care to remember, and I have never seen this under any circumstance. I mean, you can be in the middle of a tremendous snowstorm, you get more New Yorkers out than you get out now.
"And that's I think a fact that people forget, it's one thing for government to say, okay, it's safe to go out. If people don't believe it's safe they're not going to go. So, the data and the testing works both ways. It can give people a sense of security. When they open some of these other places people didn't come out even though the government said you could come out. So, it informs everyone," Cuomo added.
He said opening areas where it's hard to social distance, like restaurants and Broadway would be "anyone's guess," but without a therapeutic drug or a vaccine, it would likely be a "significant lag."
"Density is a problem in this situation and whatever we do or whatever government says, I just think people are going to be very weary before they walk into a Broadway theater or they get in a crowded subway car," Cuomo told MSNBC. "They're going to want to know that there's a therapeutic, a vaccine, but some real safety measure before they subject themselves to a situation like that."