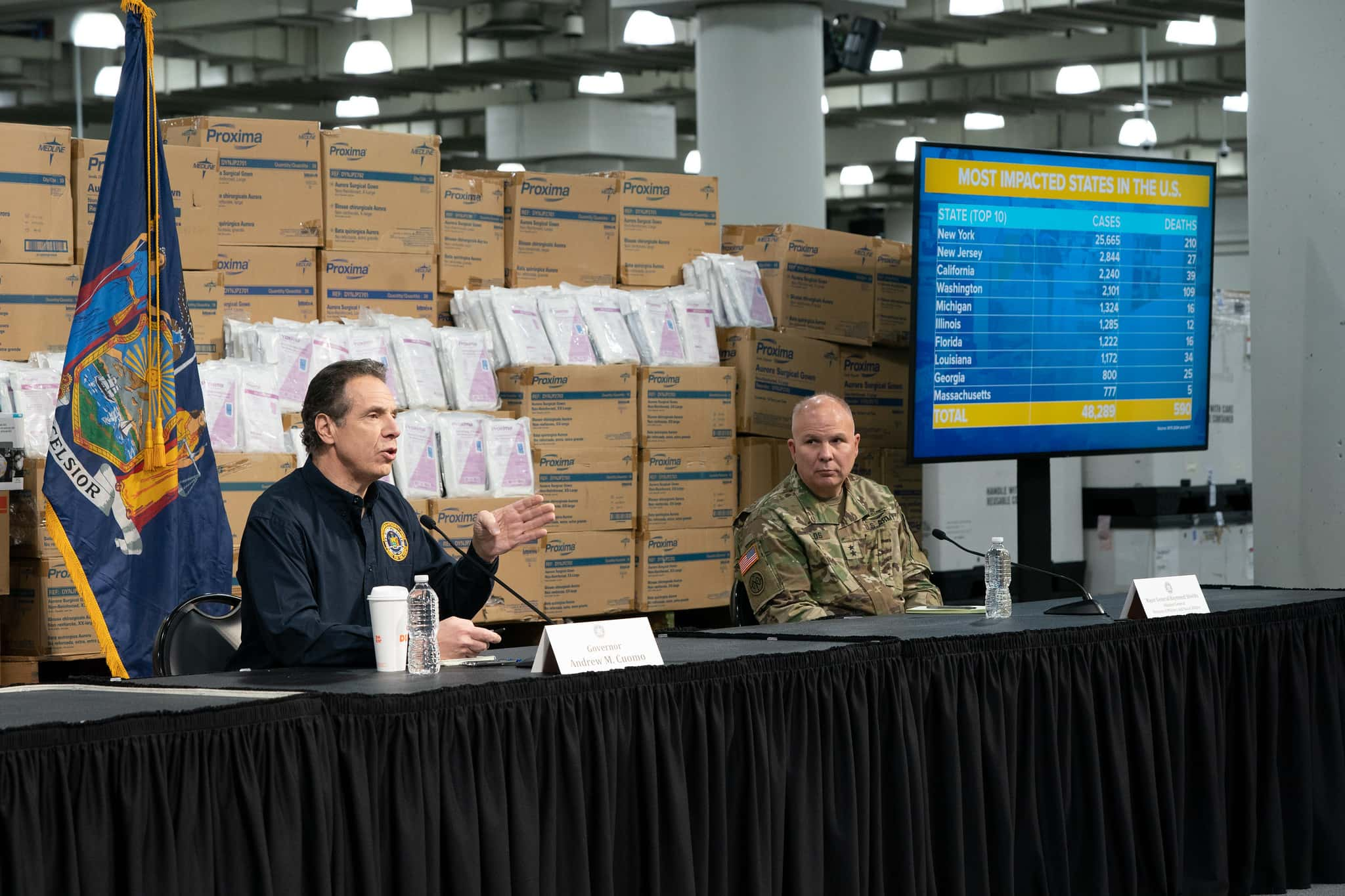 NEW YORK (77 WABC) — New York Gov. Andrew Cuomo said during a press briefing on Tuesday that Coronavirus cases in the state "is doubling about every three days." Gov. Cuomo also warned that cases could peak in 14 to 21 days.
New York's positive Coronavirus cases spiked again on Tuesday with 4,790 new cases and bringing the total to 25,665. Cuomo was speaking from the Jacob Javits Center, where the Federal Emergency Management Agency began building four large field hospitals.
"The apex is higher than we thought, and the apex is sooner than we thought," Gov. Cuomo said. "The inescapable conclusion is the rate of infection is going up."
New York City remains the area most impacted by the Coronavirus outbreak, with 14,909 total cases. There were 2,599 new cases reported in the city when Gov. Cuomo met with reporters on Tuesday.
The federal government must distribute ventilators based on need.

We need them in New York NOW.

After New York gets past the apex of this pandemic, I will transport the ventilators myself wherever they are next needed.

— Andrew Cuomo (@NYGovCuomo) March 24, 2020
Gov. Cuomo also called on the federal government to help bring in more ventilators and other critically needed equipment to fight the Coronavirus.  He also warned that what is happening in New York could happen in other states down the road.
"Where we are today, you will be in 2 weeks—3 weeks—5 weeks. We are your future," Gov. Cuomo said. "I'm not asking you to help New York to help New York. I'm asking you to help New York to help yourselves."
With the apex now higher and coming sooner than anticipated, Gov. Cuomo said the projection on needed hospital beds has increased. Originally officials believed they would need 110,000 hospital beds, but now the belief is that 140,000 hospital beds will be needed.