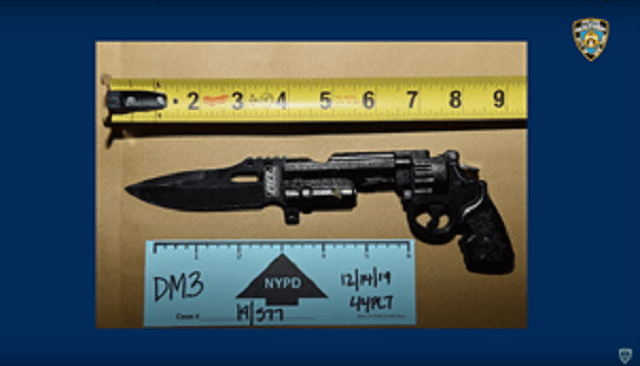 (Image taken from NYPD's body camera video) 
NEW YORK (77 WABC) — Police have released body camera video from a shooting in the Bronx. Cops injured the suspect, who is seen wielding a fake pistol with a knife attached. It took place December 14, 2019 at East 167th Street and Grant Avenue when police received a call of a person armed with a hand gun.
Police say the suspect, who was walking with a woman, had pointed the realistic-looking weapon at a couple on the street and demanded their property before walking away.
They recovered the imitation weapon at the scene.
A description by the victims led to cops tracking down the suspect a short time later. The two officers fired 12 shots, hitting the suspect in the torso.
He was taken to the hospital in critical condition, had surgery and subsequently was released.
The suspect has been indicted on three counts of menacing and one count of criminal possession of a weapon.
Warning: Some people may find this video disturbing. Viewer discretion is advised.