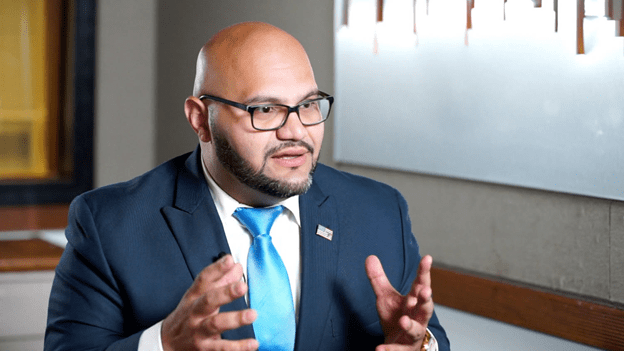 wabcradio.com's "THIS IS AMERICA with Rich Valdes" Kicks off New Year with Top Spot on Apple Podcast Chart
NEW YORK (77 WABC) — "This is America," a WABC original podcast, hosted by Hispanic conservative commentator and producer, Rich Valdes peaked at number 27 in the final week of 2019 and was among the top 50 most-listened-to podcasts on Apple's political chart, according to the rankings website Charitable. The show has been a consistent presence on the most-listened-to podcast list in the final week of 2019 and first week of 2020 (December 31st, 2019 — January 2rd, 2020).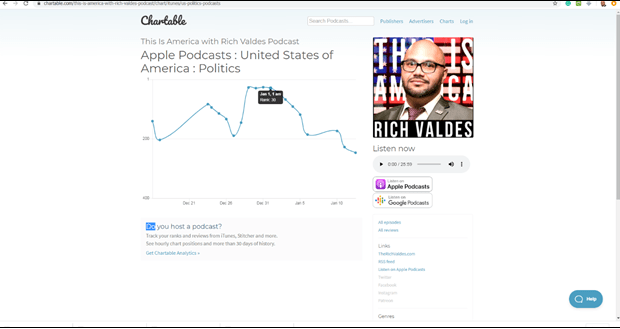 Valdes show grown steadily since it debuted in February of 2019 and has featured high profile guests such as Congressman Devin Nunes, former Fox News host Kimberly Guilfoyle and Radio Hall-of-Famer Mark Levin.
Hailed by the New York Post and Washington Times as a potential challenger to  Congresswoman Alexander Ocasio-Cortez, Valdes, a native New Yorker of Puerto Rican heritage, brings sharp-witted analysis and opinion on local and national issues through the lens of his Latino roots. Valdes is a regular fill-in host on WABC Radio in New York and WPHT in Philadelphia and a frequent guest on Newsmax TV.
Daily, Valdes is in the talk radio trenches as the Associate Producer of The Mark Levin Show where "The Great One" refers to him on-air as Richie V. or as "Mr. Call Screener."
Prior to his work in media, Valdes was part of New Jersey Governor Chris Christie's administration. Valdes has experience as a charter school founder and higher education administrator, and founded his first business at the age 16.
"This Is America with Rich Valdes" every Tuesday and Thursday on all podcast platforms and WABCradio.com.