TALKRADIO 77 WABCs Holiday Radiothon for the Kids at Cohen Childrens Medical Center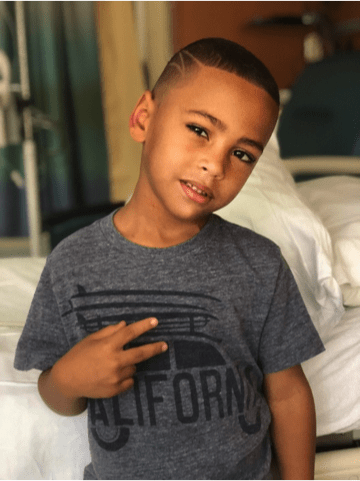 PATIENT NAME: Adrian Camacho
PATIENT AGE: 7
PATIENT DIAGNOSIS: Sickle Cell Anemia
BIOGRAPHY:
Found out through amniocentesis (20 weeks pregnant) that Adrian would be born with sickle cell anemia
Mom hadnt heard of it before but the doctor (not associated with NWH) made it seem like the most horrible disease and that her child was going be a complete monster and that she should terminate the pregnancy. She refused and they dropped her as a patient.
Many doctors would not take her because she was too far along, a high risk, and sickle cell.
Saw a doctor through LIJ – ob/gyn department, they not only took her but embraced her and said they would take care of her and her baby.
Adrian was breech and mom needed c-section, pediatric and specialist doctors were all there, and he was born perfectly fine.
Didnt need to see hematology until about 6-9months with first episode – strong pain, or blood cells group up and get stuck, and can form blood clot, no cure but treatment
There was finally a cure five years later, bone marrow transplant.
Almost everyone in the family was tested including an unborn sibling – but no one was a match. Doctors suggested that they test his older sister Anaya – Mom remembers vividly Donna Brauer, NP, telling her his sister was 100% match!
It took a year of prepping for both kids. 2018 – September 18th Anaya & 19th Adrians surgery
Adrian lived in the hospital – home away from home; sometimes excited to go, has much love for all of the employees – made my kid not afraid of being in the hospital.
LISTEN TO CURTIS & JULIET SPEAK WITH ADRIAN'S MOTHER, MELISSA ASTACIO, ABOUT THE DIAGNOSIS AND THE CARE FROM COHEN'S CHILDREN'S HOSPITAL.
On Friday, December 13th TALKRADIO 77 WABCs Bernie & Sid in the Morning and Curtis & Juliet will be broadcasting live from Cohen Childrens Medical Center in New Hyde Park
• • •
Funds raised during the radiothon will be used to improve life-saving patient care and equipment, pediatric research, Child Life services, and charitable cases.
This means that the money goes when and where it is needed most.  If a piece of equipment is needed to enhance care and save more lives, it will be purchased with the funds you are contributing!
Cohen Childrens Medical Center is a proud partner of Childrens Miracle Network and has been the local Childrens Miracle Network hospital covering all of New York City and Long Island since 1997.
Please join us this holiday season and give back to the children in need